What To Wear In Kauai In December
Kauai sits at 22 degrees north latitude, putting it just in the realm of the Tropic of Cancer in the northern hemisphere. Don't let people convince you that you might get cold. Unless 63 degrees Fahrenheit during the depths of a Kauai winter will make you shiver, you don't need jeans or sweatshirts.
Temperatures in Kauai reach a low of 63 degrees during the winter (around the dawn) and a high of 84 degrees during the summer in Princeville, a popular resort area in Kauai. The average temperature on Kauai varies depending on if you're staying on the windward coast (wet side) in Princeville or Hanalei or the leeward coast (dry side) in Poipu or Waimea.
Related article: Princeville vs Poipu: Finding the Best Place to Stay on Kauai
Unless the temperatures above are cold for you, plan to dress in light, breathable clothes. The best island wear is clothes that are light in color and weight. Light, cotton clothes are popular.
You will find most locals wearing t-shirts, tank tops, and shorts when in town. Kauai has a laid-back, casual vibe. You won't find people dressed in their Sunday best or wearing resort wear.
You will find Kauai residents wearing Aloha Shirts for work in offices and resorts. An Aloha Shirt is business formal or if going out for a nice dinner.
To get more familiar with Kauai, check out our free Kuaui Travel Guide page for almost everything you need to know for visiting the Garden Isle. The rest is in our Kauai Wayfinder Itinerary!
Complete Packing List for Kauai
Here is our full list of recommended items to pack for Kauai. Whether you need to know what to pack for a 7-day trip to Kauai or a 3-day trip, we have you covered with this complete Kauai packing list.
Shorts and T-Shirts
Comfortable Footwear
Handbag
One Gorgeous Island Style Outfit
Reusable Shopping Bags
Chopsticks or Metal Utensils
Beach Bag or Backpack
Mineral-Based Sunscreen
Sunglasses
Sun-Protective Clothing
Swimsuit Cover-Up
Underwater Camera
Flotation Strap for Underwater Camera or Phone Case
Waterproof Phone Pouch or Waterproof Waist Pouch
Eco-Friendly Bug Repellent
Hiking Shoes
Pants and Long-Sleeve Shirt (hiking)
Rain Jacket (hiking)
Adjustable Hiking Poles (hiking)
Water Bottle
Light Jacket
Sun Hat
Sunglasses
Backpack
Reef-Safe Sunscreen
Camera
Now, you're all set to enjoy our favorite 35 Things to Do on Kauai!
The biggest difference between packing for Kauai compared to the other islands is making sure you have insect repellent and rain gear for hiking. Kauai doesn't have polar regions like the top of Maui or the Big Island so you will find warm weather and activities across the island.
See below for more details on what to bring for the type of trip you are planning. A beach bum vacation versus jungle hikes and Mountain Tubing Adventures requires a far different packing list. But we have you covered for both.
Clothes to Pack for Kauai
Island wear brings images of Tommy Bahama and Tori Richards for resort wear or Volcom and Quicksilver for more of that surfer look. These are all good examples of island wear you will find in the resorts.
But, wear what you are comfortable wearing on Kauai. There are no fashion rules on the Garden Isle.
The main idea for packing for Kauai is to pack clothes for a warm climate. Dinner at night does not mean it will be cold.
Shorts and T-Shirts – Due to the warm climate, you will be wearing these every day. I wear a tank top 90% of the time in Hawaii. It is hot and sunny so soak up those rays while staying comfortable.
Comfortable Footwear – this may mean wearing sandals, called slippers in Hawaii, or bringing a comfortable pair of sneakers
Handbag – bring something you won't be worried about getting sand inside or being out in the sun. If you have kids, consider a fanny pack so you can chase the kids around the beach while wearing your valuables.
One Gorgeous Island Style Outfit – be this a favorite sundress or resort wear for guys, bring at least one outfit for a nice dinner with your partner. Besides fine dining, you won't find other opportunities to get fancy on Kauai.
Determining how much to pack depends on How Many Days you Should Stay on Kauai.
Unconventional Packing Items for Kauai
Here are some packing items you may not have considered for Kauai.
Reusable Shopping Bags – Counties in Hawaii are transitioning away from single-use plastic bags. Grocery stores provide paper bags or you have to buy a reusable shopping bag.
Chopsticks or Metal Utensils – Hawaii is going through a transition away from plastic utensils. Wood utensils or chopsticks are becoming common for take-out and at the Best Kauai Food Trucks. Bring your own favorite utensils if this is important to you.
Beach Packing List for Kauai
Kauai has so many amazing beaches to visit. The nice part of Kauai is the best beaches are state or county parks so you will find lifeguards on duty, toilet facilities, showers, and a decent amount of parking. Check out our 7 Best Kid-Friendly Kauai Beaches.
You can fly from home without these items as they are all readily available for purchase on Kauai. But if you own them already, don't want to stress about buying them upon landing, or they will be cheaper to buy at home, like sunscreen or a beach bag, then throw them in the suitcase.
Beach Bag or Backpack – a must-have item for the beach. Plus, a beach bag serves as a bag for grocery shopping.
Mineral-Based Sunscreen – Hawai'i banned certain types of sunscreen in 2021 as they damage the reefs. While most of the country now sells reef-friendly sunscreen, we recommend mineral-based sunscreen (zinc oxide and titanium dioxide) as they are the least likely to cause the reefs to stop growing.
Sunglasses – UV-protective is best for safety. Polarized is best for viewing the ocean and makes the island's vibrant scenery really pop!
Sun-Protective Clothing – Rashguard or sun shirt and a sun hat will be your best friends at the beach. We recommend wearing sun-protective clothing so you can minimize the amount of sunscreen you need to wear.
Swimsuit Cover-Up
Underwater Camera – Perfect for snorkeling, an affordable underwater camera is a must, or use a waterproof phone case that enables pictures.
Flotation Strap for Underwater Camera or Phone Case – you will thank me for this one.
Waterproof Phone Pouch or Waterproof Waist Pouch – if you need to keep valuables off the beach, then consider bringing this for peace of mind when swimming.
While you can purchase these items readily in Kauai, you may not be able to find a convenience store close to your favorite beach. Besides the resort beaches on the South Shore or Hanalei Beach in Hanalei Town, most of the best beaches are away from shopping centers. 
What to Bring to Kauai
Here we have compiled a list of the essentials you need to pack for a trip to Kauai:
Casual clothes (shorts, t-shirts)
Sandals
Light rain jacket
Backpack or convenient bag
Beach Towel
Sun Hat
Electronics Charger
Sunscreen
Cover-up (for extra-sunny days)
Camera (or phone)
Photo ID
Medication
Water bottle
Hiking shoes or comfy trainers
Sunglasses
What's great about packing for Kauai is that if you forget something, you don't have to worry as the island has a variety of shops where you can pick up any extra items you may need.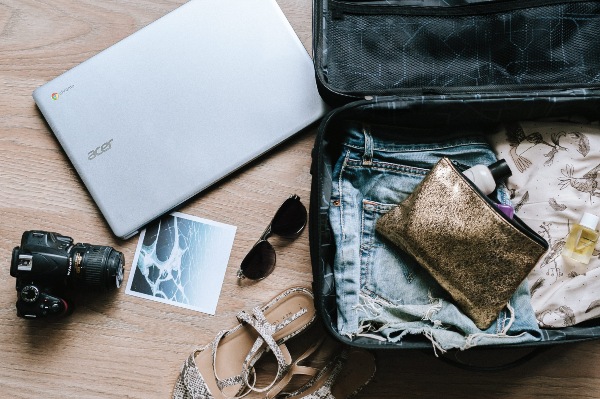 A Week in Kauai
For a week in Kauai, you will want to pack all the essential items above, with enough clothes to last you for seven days on the island. If you've visiting in the summer, be aware that humidity during the day is high, so you may feel more comfortable changing into fresh clothes in the evening if you've been out and about.
It is important to bear in mind that Kauai offers many exciting activities on the island, from horseback riding, ziplining, mountain-tubing to some of the best hikes in the world. You might want to take into consideration what you plan on doing whilst visiting the island so that you can pack accordingly.
Packing List for Kauai in Summer
Kauai's regular rainfall has allowed vegetation to thrive, creating one of the most stunning islands on the planet. However, in summer this creates high levels of humidity along with high temperatures, so you'll want to bring plenty of cool clothes if you're visiting at this time of year.
When packing for summer in Kauai, make sure you include lightweight items such as shorts, t-shirts, summer dresses and flip-flops! And of course, don't forget your swimsuit!
Packing List for Kauai in Winter
With heavier rains and slightly lower temperatures, Kauai's winters create the perfect environment for those who are seeking out an adventure, as the climate is much more suited to getting active. The rainfall in winter also makes Kauai's waterfalls and tropical rainforests that bit more impressive, although you'll need to be prepared for the frequent showers and storms.
When packing for winter in Kauai, make sure to bring a light pack-away waterproof jacket to give you protection if you get caught in one of the island's famous rain showers. If you're planning on hiking during your visit, add sturdy hiking boots to your packing list as well.