What To Wear In Ireland In September
September can be a nice weather month in Ireland. The school year starts at the beginning of September and because the universe has a sense of humour, the sun comes out to play as soon as the kids are stuck in the classroom.
If you plan on hiking during your September trip to Ireland, waterproof hiking shoes/boots are a must. A lot of hiking trails in Ireland might just be a dirt track. If it has been raining, that track might be covered in mud. Even if you're going on a short 1-hour hike, it would not be an enjoyable if you have wet feet for 55 minutes. Ireland has some amazing views, but no amazing view can distract from that level of discomfort…
For non-hiking footwear, bring something comfortable. You want to be able to dance (or jump along) to some great music when you visit Ireland's famous pubs. The music is so infectious that even the most uncoordinated of visitors have been known to try and dance along. Be prepared to join in with some comfortable shoes.
Always Bring Waterproof Jackets
For the hikers (and everyone else, actually), you will need a waterproof jacket for your trip to Ireland, irrelevant of the time of year that you are visiting. December and January are the wettest months in Ireland but that doesn't stop the rain falling during the other 10 months. Every single Overland Ireland small group Ireland tour has some kind of hiking or outdoor exploration — so much of Ireland's treasures are outdoors and we don't want our guests to miss out!
Ireland is known as the land of "forty shades of green" but to get the lush green fields, we need plenty of rain to make that happen.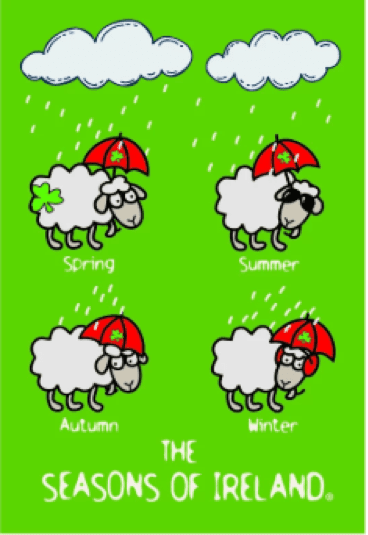 There is a reason you will find this image on many t-shirts in Ireland. To local people, it seems like the rain is never too far away. But for our neighbours across the Atlantic it might be worth noting that it rains more in Seattle and New York than it does in Ireland.
It would be sensible to bring a warm jacket/fleece that could be worn under a rainproof jacket. This will keep the chill at bay when wandering around the small towns of Ireland in September. A light sweater would be a great addition to the packing list. If the evenings are really mild, you won't need a jacket. A beanie (knitted hat) and scarf is another year-round necessity in Ireland. A beanie has more warmth than a baseball cap and is much easier to pack into your luggage.
Layers are your friend. If you bring a mixture of short and long sleeve tops, you can mix and match the layers and remove as necessary on a warm day. A couple of pairs of jeans will last you for a tour of Ireland. Warm and comfortable — they are the perfect wardrobe option for September. For most restaurants and bars, there is no requirement for formal attire. So you can remove the ballgown and/or tuxedo from the suitcase.
Swimming In Ireland
A swimsuit should definitely make it into your suitcase. Ireland is a small Island and no matter where you go, you won't be too far from the water. If you get to the Wild Atlantic Way, you might just feel the lure of the Atlantic Ocean. On most Overland Ireland tours, there will be the option to kayak. You will need a swimsuit to wear underneath your wetsuit.
Some quick need-to-knows about what to wear in Ireland in September
Before looking at what to wear in Ireland in September, it's worth taking 10 seconds to get up-to-speed on what this month is like:
1. September is autumn in Ireland
September officially marks the beginning of autumn with temperatures beginning to cool off a little. During the month there are average highs of 13°C/55°F and average lows of 9°C/48°F. The days are still relatively long, with the sun rising at 06:41 at the start of the month, and setting at 20:14. If you're following one of the itineraries from our Irish road trip library, these long days give you plenty of time to explore!
2. Hope for the best and plan for the worst
September can be a little unpredictable weather-wise, with a mixture of sunshine, rainy weather, and temperatures. In 2021, parts of the country experienced record-breaking temperatures and dry weather, whereas in 2022, it was generally quite mild, with a fair bit of rain in some areas. The key takeaway here is to pack a variety of layers and waterproofs so you're prepared for anything.
3. Where you're from plays a big part
We all know someone who wears shorts all year round (even in winter) or someone who is still bundled up in the height of summer. We're all different and feel the cold differently, and where we're from can play a big part. If you're from somewhere warmer than Ireland, we highly recommend adding some more layers to your bag as an extra measure.
4. We can get four seasons in a day
The weather in Ireland in September can throw anything at you, and it's not unheard of to experience rain, sunshine, and wind in a single day. Again, this is where lots of layers come in real handy, as you can put them on/remove them as you need to.