Curaçao's island vibes are amazingly relaxed – bring whatever! If you feel like dressing up, go for it, but a plain dress is fine wherever you go, even when visiting more up-scale night venues.
Anything goes here, just as long as you make sure to pack light, breathable fabrics as the island is pretty hot year-round and you want to be comfortable to be able to enjoy all the amazing things to do in Curacao.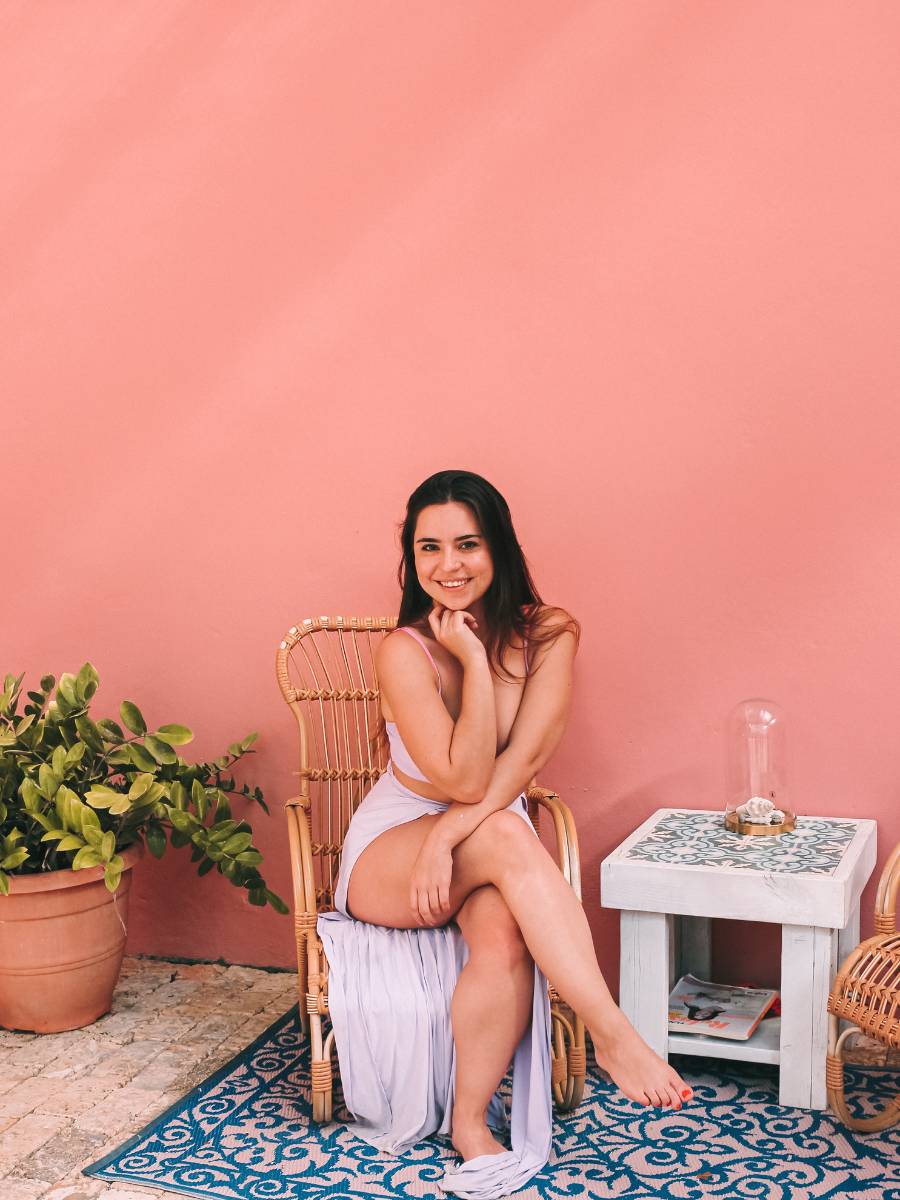 If you like Snorkeling, good news for you – Curacao's beaches are among the best snorkeling beaches in the world. Having your own snorkeling gear will save you at least $10 every time you rent one. Plus, I don't like the idea of renting snorkels due to sanitary reason.
We'll share a few essential items we were very happy to have brought with us to Curacao.
Snorkeling Gear
As we said earlier, you may spend a lot of time swimming and snorkeling in Curacao. It's very essential to have your own snorkeling gear that you know is clean and fits you well for the best experience.
A full-face snorkel mask was a total game-changer for me. With traditional snorkels, I always had to remember not to breath through my nose. I never quite master that. This problem goes away with a full-face mask. There is less seams for potential leaking. The snorkel part can be removed from the mask for easy packing.
If you are comfortable with and still prefer traditional snorkels, this anti-fog anti-leak snorkel set with tempered glass lens beats most of its competition on Amazon with plastic lens. We put it to test in Curacao and it earned our positive review on Amazon.
These snorkeling travel fins are flexible and lightweight. I found them more comfortable than those with more hard plastic parts which give me cramps sometimes.
Water Shoes / Water Socks
You will be very happy to have water shoes or water socks with you even if you are not planning on diving or snorkeling in Curacao. You will have to walk over some broken corals and rocks to enter the water at most Curacao beaches including those white-sand beaches. They hurt!
These neoprene water socks are great for snorkeling, diving, and even swimming. They saved our feet at the Tugboat beach, one of the best snorkeling spot in Curacao.
If you want to do some paddle-boarding or paddle-board yoga, these compact flexible water shoes would be great to have on your trip to Curacao.
Quick-Dry Beach Towel
Always have beach towels with you in Curacao because you may get onto a beautiful beach anytime. Lounge chairs are limited at popular beaches so you can just lay on the beach towel to relax on the beach. Our favorite travel beach towels pack small and dry quickly so we don't have to wait to use them again. Go for the XXL size (36'x72″).
Dry Bag
This is probably not an expedition-grade dry bag but it does its job at keeping things dry and sand away. This 20-L roll-top dry sack comes with a phone case and waist pouch and is good for kayaking and using on the beach.
We bought it because it packs into a small sack. We used it even as a grocery/shopping bag on our trip. The waist pouch is great for our passports, credit cards, and cash. The phone case protected my phone from sand and water.
Universal Travel Adapter
Curacao is one of the few countries that use two types of voltage, 127V or 220V. Curacao standard current outlets provide 110-130 Volt at 50Hz. The standard plug type is a two-pin Type A power plug as used in the US. In Curacao, electrical sockets and plugs are type A, B or F. Confusing?! Solve the problem with a universal travel adapter/charger no matter where in the world you travel from.
Our experience in Curacao was that a hotel has either 127V or 220V outlets, not both. So, we wish we have brought two of these adapters on this trip.
We bring these universal all-in-one travel adapters and chargers with us on all trips. We found wall power outlets are usually limited in hotels and we can plug multiple devices in the charger's USB ports.
Power Bank / Portable Charger
We won't travel anywhere without these Anker portable chargers! It's the worst feeling to run out of phone power when you are roaming around in a beautiful place. Anker's power banks are high quality and always reliable. Ours have lasted for years and are still going strong. We wouldn't substitute them for any other brands on Amazon.
This powerful, high-capacity model charges three devices simultaneously. We found this powerful model especially good for cold weather. When we visited Iceland in the winter chasing the northern light, we had to use it a few times a day.
Insect Repellent
Don't forget to bring powerful insect repellent products that work for you. We brought two kinds: REPEL plant-based DEET-free spray, and OFF! Sportsmen Deep Woods Bug Spray.
For hiking on Curacao, we used Repel 100 DEET Insect Repellent for more protection. We also used it during sunset when mosquitos get aggressive.
REPEL plant-based DEET-free spray can be used more safely when bugs and mosquitos are less aggressive (if there is such a moment).
Wide-Brim Hat
The sun is hot and bright in Curacao, so a versatile hat is a must-have. This classic wide-brim Panama straw hat meets both functional and fashionable needs for me. I am in love with this amazing hat at a very reasonable price because:
Stylish and classic with many color options
Adjustable head circumference with a hidden internal mechanism you won't feel at all
Detachable chin strap to keep the hat securely on when needed (Curacao can be windy)
Packable but holds its shape well – a huge plus comparing to other hats I have had
Underwater Camera
The quality of this sports action waterproof camera pleasantly surprised us compared to its much more expensive competitor Go-Pro HERO8 we used to own. At only 1/5 of a GoPro HERO9's cost, this little camera took great photos and videos and come with all the bells and whistles.
For a traditional camera feel and handling and longer battery life, you can't go wrong with Olympus Tough TG-6 waterproof camera. It's a high-quality lightweight camera to invest in so you don't always expose your expensive lifeline, your smartphone, in tough conditions.
This simple inexpensive underwater camera is a more economical alternative if you won't use an underwater camera often and prefer to handle a regular camera instead of a sports cam.
Soft Cooler Grocery Bag
American travelers may often get surprised when they are asked to pay for plastic bags at a grocery store in a foreign country. The United States is probably one of few countries left in the world providing complimentary shopping bags. Always pack a few lightweight shopping bags with you.
These reusable insulated grocery shopping bags are perfect for Curacao to use as grocery bags or soft coolers to the beach. Many Curacao beaches don't have restaurants on site to serve food and drinks. Even beaches with food and drink services, the service is at an island speed (slooooow) so you may want to pack your own just in case.
Foldable Duffle Bag
We don't go on any international trips without this just-in-case 60L foldable duffle bag. We have brought home many gifts and memories in it from all over the world. This lightweight bag is packed with great design details:
Durable nylon water-resistant materials tough enough for checked luggage
The 60L/24″ bag folds into a compact 9.5″ x 9.5″ x 2″ square pouch weighs just over 1 pound
Luggage strap on the back to secure over a suitcase
A easy-access shoe compartment to keep dirty items away from the main compartment
Detachable shoulder strap and padded handle
Many color options