What To Wear During Autumn In Taiwan
Taiwan doesn't have a universal dress code. Many businesses, such as hotels, nightclubs, or restaurants, will have dress codes.
Before visiting places, check their website for dress codes. You could also call or email their customer service and ask.
So long as you don't expose your bellies, butts, and breasts, you'll have no problems entering tourist hotspots. I have no experience trying to enter these places when exposing myself. However, these laws apply to betel nut girls [2].
Taiwanese people aren't fragile, so if you're wearing a skirt or a tank top, they won't shun you.
I've seen many men (mostly old dudes) walk around shirtless and not get in trouble. However, that's likely considered 'uncultured.' Unless you're visiting a beach.
You'll notice more people wearing professional attire if you're in more upscale areas like the Xinyi Shopping District. Most of the time, this is work clothing.
During the Chinese New Year, red clothing is auspicious. Men should pack a red sweater, and women, a bright, but not overly revealing, red dress. Black and white are to be avoided, as they signify mourning.
I imagine they apply to all folks—tourists and locals alike.
Take off your shoes if you enter someone's home.
No one wants your dirty shoes on their floors. Hosts will usually provide house slippers.
However, don't take your shoes off in public. Many Taiwanese people spit chewed betel nut on the ground, and you don't want to step in that.
---
Taiwan Dress Code for Women
I'm not a woman, but I'm basing the following information on my experience with my wife and what I've seen while wandering around different parts of Taiwan.
In Taiwan, a modern and progressive country, women's dress codes echo those of Europe and North America. With one key difference: shoulder exposure is less common. Most Taiwanese women don t-shirts or light shawls over their shoulders, even if they wear a tank top.
I have seen a lot of tank tops with fully exposed shoulders, though.
Baring your shoulders won't lead to confrontations or denial of entry into tourist spots, but expect some stares from older folks. This doesn't mean it's against the law, but it's less frequently seen in local fashion.
Visiting temples or religious sites requires more consideration. Avoid short shorts and skirts; opt for knee-covering bottoms or just above. Many folks I've seen wear whatever they want. Refer to the word "consider."
Low-cut tops and stomach-revealing crop tops are not common in day-to-day Taiwanese style. Probably 1/50 women I see have crop tops.
Despite the guidelines, Taiwan maintains a relaxed dress code. You won't offend locals with different clothing choices, but dressing like the locals will help you blend in.
---
Taiwan Business Dress Code
When dressing for business in Taiwan, men should wear a button-up shirt, slacks, a tie, and leather dress shoes [3]. I'd imagine you can get away with faux dress shoes.
The government recommends women choose from the following:
Slacks
Suits
Dresses
Skirts with leggings
Taiwan's government last updated its "Dos and don'ts!" page in 2015. Fashion has likely changed since then.
Ask future coworkers or other staff at the company you're working for what they recommend wearing.
---
What to Wear in Different Seasons
The following sections will cover what I recommend wearing during different seasons when in Taiwan.
What To Wear in Taiwan in Spring
You can wear shorts and a t-shirt in Taiwan during spring. I recommend packing a lightweight waterproof jacket or poncho if you feel nippy.
Sometimes Taiwan will have cooler weather during this time.
Plum rains will start battering Taiwan toward the middle of May. That means it'll rain a lot. Bring waterproof clothing and ensure your shoes have decent traction.
Spring in Taiwan lasts from March to May, and temperatures range from 60.4 °F–84.6 °F (15.8 °C–29.2 °C).
---
What To Wear in Taiwan in Summer
From July to early October, you'll want to wear shorts, skirts, sundresses, or t-shirts. And pack a lightweight rain jacket or parka.
You may also want to have waterproof shoes or boots with good traction.
During the summers, you'll usually encounter 76.3 °F–93.7 °F (24.6 °C–34.3 °C) weather. These temperatures don't account for humidity. But you'll have a much higher chance of encountering typhoons from July to September.
It rains in Taiwan year-round, but you'll want to prepare for the coming storms while surviving the scorching heat. If you have the funds, get lightweight yet waterproof clothing.
I recommend getting clothes from Uniqlo. They have an AIRism line that feels amazing in Taiwan's humid weather. There's one issue with AIRism clothing, though.
If you're someone who tends to get sweaty and stinky easier, you'll find your Uniqlo clothing coated in sweat quicker. But you'll still feel better since it's lightweight than other materials like wool and cotton.
Many Taiwanese will wear long-sleeve clothing to protect their skin from the sun. I tried the same, but felt like my body was on fire.
---
What To Wear in Taiwan in Fall
Wear a t-shirt and shorts (or pants) when it's fall. Ensure you have a portable lightweight jacket on-hand in case it rains.
Temperatures in Taiwan during autumn will range from 66.7 °F–88 °F (19.3 °C–31.1 °C). You'll need to prepare yourself for scorching temperatures and frigid days.
The weather's not bad between September and November, so don't stress about what to pack.
---
What To Wear in Taiwan in Winter
Anyone from colder countries can get away with shorts and a lightweight raincoat. Adventuring in the mountains will require heavy winter coats.
Depending on your cold sensitivity, you may want to consider merino wool socks, gloves, and a thermal sweatshirt.
Winter in Taiwan lasts from December to February. Temperatures during these times average 57 °F–69.3 °F (13.9 °C–20.7 °C). If you're in the mountains during this time, you'll experience much colder temperatures.
---
What to Wear in Taiwan by Month
Here's what I recommend wearing in Taiwan depending on the month you're here:
| Month | What Men Should Wear | What Women Should Wear |
| --- | --- | --- |
| January | Heavy coats in mountains; otherwise, thermal sweatshirt & wool socks | Heavy coats in mountains; otherwise, thermal sweatshirt & wool socks |
| February | Thermal sweatshirt & wool socks | Thermal sweatshirt & wool socks |
| March | T-shirt & shorts | T-shirt & shorts/skirt |
| April | T-shirt & shorts | T-shirt & shorts/skirt |
| May | T-shirt or tank top & shorts | T-shirt or tank top & shorts or sun dress |
| June | T-shirt or tank top & shorts | T-shirt or tank top & shorts or sun dress |
| July | T-shirt or tank top & shorts | T-shirt or tank top & shorts or sun dress |
| August | T-shirt & shorts | T-shirt or tank top & shorts or sun dress |
| September | T-shirt & shorts | T-shirt or tank top & shorts or sun dress |
| October | T-shirt & shorts | T-shirt & shorts/skirt |
| November | T-shirt or lightweight button-up shirt & pants | T-shirt & pants |
| December | Sweatshirt & wool socks | Sweatshirt & wool socks |
What to wear in Taiwan in different months.
What you'll wear depends on your comfort levels. For instance, I'll wear t-shirts (or tank tops) and basketball shorts no matter the time of year. Except when in the mountains during the winter. Then, I'll wear a jacket, thermal pants, and merino wool socks.
I also recommend wearing different clothing when hiking—no matter the season. You'll need sleeves and pants to avoid bug bites and possibly mitigate snake bikes. Supposedly, jeans denim may thwart some snakes' venom [4].
Also wear boots when hiking. The higher top will lessen the likelihood of a snake's bike from reaching your skin.
Why am I talking about snakes so much?
Taiwan has 6 poisonous snake species [5]. And I've encountered quite a few of these slithery buggers while hiking. Take precautions to protect yourself.
Top Taiwan style tips
When deciding what to wear in Taiwan, our advice is to pack light.
Pack casual, lightweight layers that aren't too revealing. Light cotton clothing that is easily washed and not too delicate is ideal.
Taipei is very fashionable and Western fashion is very popular.
It is perfectly acceptable to wear shorts, but keep in mind when visiting religious temples you will need to be more modest and cover up your legs.
The local people appreciate it if you dress up when visiting restaurants and evening venues.
You can also purchase almost any kind of clothing, although the sizes are far smaller than you may be used to in the West.
Our advice would be to make sure you take enough underwear as even their large size is small by Western standards.
Take your sunscreen (we love the Riemann P20 range for 10 hour protection).
A travel umbrella is also recommended, it is perfect for protection from the rain and sun. Plus, it packs down to the size of your palm making it very easy to carry.
Shoes to pack for Taiwan
Make sure you bring water-resistant and breathable footwear that can withstand the rainy and humid weather of Taiwan. Shoes in materials sensitive to water or humidity (like suede or delicate leather) should be avoided.
A good pair of comfortable walking shoes and stylish flats are highly recommended. We love Hotter shoes, for total comfort and style.
Ladies, save your high heels for the evenings. You will most likely be doing a lot of walking throughout the day and your feet with thank you for choosing comfortable and sturdy footwear.
The average Taiwanese person has far smaller feet than the average Westerner, so keep this in mind if you are planning to buy shoes in Taiwan. If you wear above a size 8, bring all the shoes you think you will need as you won't easily find your size.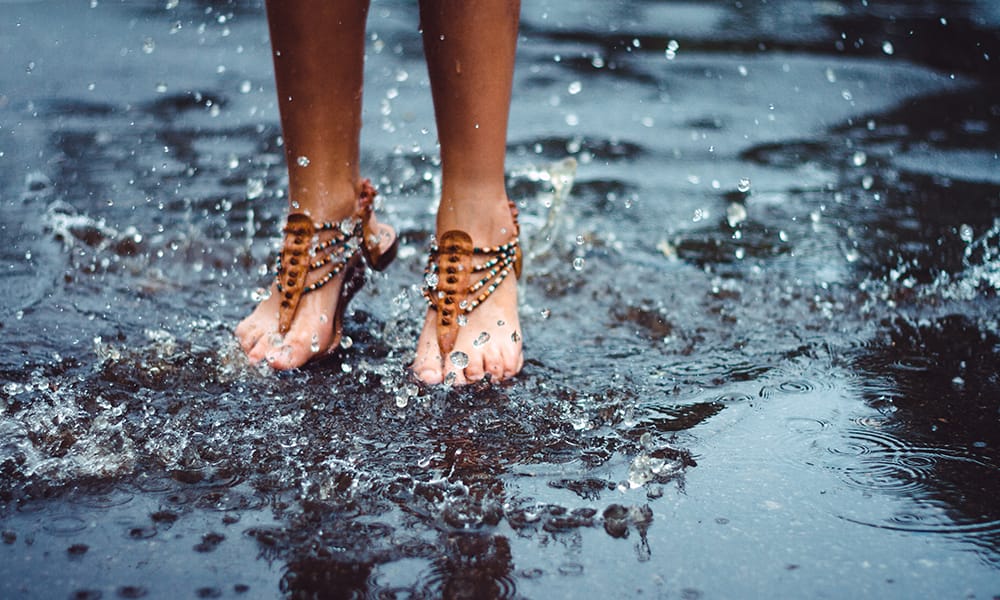 Pack for the weather
Taiwan has a tropical climate and is humid and warm all year round, although it is coolest in January, February and March, when warmer layers will be needed.
The typhoon season is June, July, August, September and October – pack a lightweight raincoat.
Dressing in layers will help you cope with any temperature changes.
It is always a great idea to check the weather forecast very close to your departure date to get the latest weather predictions. This can help you add last-minute clothing items if necessary.
What to wear in Spring
March, April, and May
In April and early May, there is a chance of thunderstorms, particularly in the afternoons. While mid to late May usually brings the monsoon season and there will be significant rainfall. So be prepared and make sure you pack a lightweight waterproof jacket.
Choosing a jacket that is packable and folds into a small pouch is a great idea, as you will be able to carry it with you without taking up much room.
You could also purchase a small travel umbrella. They are only the size of your palm and don't take up a lot of room in your backpack.
In March, you will need some layering options as the temperature can range from 59-68 degrees Fahrenheit (15-20 degrees C). Lightweight cardigans and sweaters should do the job and you can always layer them with your waterproof jacket.
In April and May, the temperature will heat up a little and can range from 64-81 degrees Fahrenheit (18-27 C). Be sure to pack plenty of light breathable clothing in natural fibers.
What to wear in Summer
June, July, and August
Summer in Taiwan is normally hot, humid and rainy. On some days the heat can be harsh and sticky.
Summer temperatures can range between 77-91 degrees Fahrenheit (25-33 degrees C). July and August usually being the hottest months of the year.
Make sure you bring very light and breathable clothing. Focus on natural fibers like cotton, bamboo, and linen that will be much more breathable in the humid weather conditions.
Try to choose loose-fitting clothing as it will be more breathable and comfortable in the harsh heat.
A travel umbrella is always a good idea for Taiwan summers. It will protect you from both the harsh sun and the heavy rainfall and it is easy to pack.
What to wear in Fall
September, October, and November
September is still very hot and wet, with the average temperature ranging from 86-75 degrees F (30-24C). So make sure you follow the advice for the hot summer months. Natural fabrics, breathable water-resistant shoes, and a practical travel umbrella will serve you well.
October and November cool down slightly and experience relatively less rain compared to the summer months. But overall the weather is still quite warm.
You might like to pack some lightweight layers, like a light cotton cardigan, in case the temperature drops. This is particularly the case if you are traveling in November.
What to wear in Winter
December, January and February
The winter months in Taiwan are the coolest of the year, but can still be considered quite mild. Temperatures range between 55-66 degrees Fahrenheit (13-19 C).
Ensure you bring a versatile, lightweight travel jacket. We love the SCOTTeVEST travel jacket because it has over 23 pockets, removable sleeves and RFID protection. You won't need a heavy winter coat unless you are planning to visit the mountainous regions.
Bring plenty of lightweight layering options to prepare you for the changes in temperature.
Clothing tips for women
Trousers are a must, since many temples will forbid entry to women wearing skirts.
For travel at any time and anywhere a versatile pashmina will keep you warm, act as a modesty cover, or will 'glam' up any outfit if you need it.
The humidity can play havoc with your hair – so think about accessories or a scarf to keep it looking neat and tidy.
Clothing tips for men
Linen is always a practical choice to combat the humid climate of Taiwan. Long-Sleeve Linen shirts are perfect to wear as they are breathable and protect from the harsh sun.
Classic linen shorts will also serve you well. Choose neutral colors like navy, stone or beige, that will match with everything.
If traveling in the cooler months (December, January, February and March), make sure you pack some chinos as they can be dressed up or down and will give you the added warmth if the temperature drops.
The cooler months also call for some lightweight sweaters and a versatile travel jacket.