Best Shoes To Wear With Bootcut Jeans
Bootcut jeans fit slim on your hips and thighs and then have a kick out from the knee down. Originally, boot cut jeans were worn with knee-high boots or cowboy boots since the slight flare has space to accommodate a tall boot. Today, they work with so many boot styles including your ankle boots. They're also an easy choice with everything from sneakers to pumps.
Choosing bootcut jeans by body types
When we talk about body type, we're referring to your horizontal proportions. To discover your body type, take measurements around the widest circumference of your shoulders and your hips, and the slimmest spot of your waist. This is a very simplified way to begin to get an idea of your body shape. We're looking to create the most flattering silhouette by visually creating balance so your shoulders and hips look the same width, and your waistline is defined.
Because shopping for clothes can be so confusing and overwhelming, and now that I'm studying style, it's part of my mission to clarify what to look for when buying key pieces.
Bootcut jeans are universally flattering for every body type. But there are some differences in bootcut styles to look for when you're buying a pair of bootcut jeans that work for your body type. Let's go through the style of bootcut jeans to buy for each body type.
Hourglass body type. As an hourglass body type, a high-waisted bootcut jean will flatter and enhance the curves of your hips and bottom. Jeans with some stretch are great for you since they comfortably hug your curves.
Triangle body type. Bootcut jeans balance the width of your hips when you have more volume below the waist. Choose a mid-rise jean if you want to de-emphasize your tush and belly. Choose a high-waisted jean if you want to emphasize your rear. Do know that a high rise can also unintentionally visually expand your midsection and highlight volume in a tummy. A dark wash or black pair will make your legs look long and lean. Choose a pair with stretch so they comfortably mold to your midsection.
Oval body type. Bootcuts balance a wider torso if you're an oval body shape. Choose a pair with stretch and shaping and supportive technology to flatten your tummy and lift your bottom. Look for a mid-rise waist and a wide waistband. A dark wash creates a long and lean look. Select a pair without whiskering, distressing or visible pockets and pocket details since they will draw more attention to your lower half.
Rectangle body type. Mid-rise jeans soften the lines of your rectangular figure. Look for pockets on the hips and thighs to add curves to your bottom half. Whiskering also adds more definition to the hips.
Inverted triangle body type. If you're broader in the shoulders than in your hips, bootcuts add volume to your lower body in a flattering and balancing way. Choose a lighter wash to draw attention to the lower body. And wear a darker top to look long and lean up top and force the eye down bottom. For the same reason, look for whiskering and pockets on the hips and thighs.
If you're petite height and between 4'9" and 5'3", choose a pair of jeans with a shorter inseam that works for your leg length. Floor length jeans will lengthen the look of your legs. Pair them with heels or ankle boots that have a pointy toe to extend your leg line. If you prefer flat shoes, choose a pointy toe flat to elongate the look of your legs. Match the color of the shoe to your skin tone or your jeans to extend the leg line. Open-toed shoes with a peek of skin showing also makes your legs appear longer.
If you're tall and over 5'7", bootcut jeans are a great option for you. To shorten the look of your legs, choose rounded toe shoes and ankle wrap sandals.
In these looks, I'm wearing a pair of boot-cut jeans from the Gap with a 30-inch inseam, which brings them to the floor without any shoes on. Today, you're seeing so many different lengths of flared jeans in the stores, from cropped to floor length. I chose a pair of boot-cut jeans in a very wearable length. Hitting the top of my foot, they keep the leg line looking long whether I'm wearing sneakers or flat sandals. And wearing high heels with them, they're not so short that they look like high water pants.
If you only plan to buy one pair of bootcut jeans and your style personality leans toward flatter shoes, choose a shorter pair of bootcut jeans. If your style personality is more classic, you may cringe at the thought of wearing bootcut jeans with sneakers or flats, preferring to stick with heels. Buy a longer pair that works with heels.
Follow your gut and wear what you love. This blog is called Be So You for a reason.
What shoes to wear with bootcut jeans
The right pair of shoes for you to wear with bootcut jeans are the shoes you feel great in. The options are endless from heels and strappy sandals to pumps, ankle boots, flat Chelsea boots, pointy toe flats, sneakers and ballet flats. There are so many ways to wear these jeans!
Ready to look at shoe styles to wear with bootcut jeans? Let's dive in!
First, let's look at wearing them with heels.
Wearing Bootcut Jeans With Heels
With block heel sandals
These block heel sandals are comfortable and have a slight heel of around 2 inches. They are the best shoes with mid-rise bootcut jeans! They add height and the hem falls down over the heel of the shoe and breaks onto my foot. You want your hem to hit the top of your foot.
Jeans | Jeans on Amazon | Sandals
Walking in them is super easy and the color is a perfect match for my skin tone. That helps to lengthen the leg line even more.
With stacked heel sandals
These ankle-wrap sandals have a higher stacked heel of around 3 inches. They're a great option with longer bootcut jeans. To have the longest leg line possible, traditional style advice says to wear higher heels with a longer pair of bootcut jeans than what I'm wearing here. A longer 32-inch inseam would allow the jeans to nearly touch the floor and to hit at the toe line. I don't love wearing jeans that length on a daily basis, so these work for me. It really comes down to your personal preference.
Jeans | Jeans on Amazon | Sandals
If tall heels are the right shoes for you and you want to create a longer leg line, invest in a pair of bootcut jeans that have a longer inseam.
With brown pointy toe heels
Brown heels are a perfect match for these color blue jeans.
Jeans | Jeans on Amazon | Similar heels
Adding a similar tone belt and clutch ties the brown into the outfit so it looks intentional. Pointy toe heels are a natural choice with bootcut jeans to elongate the leg and add some height. Wear this for a night out to dinner.
With tan ankle boots
These days, you may have more ankle boots in your closet than tall boots. And they fit perfectly under the wider hem of your bootcut jeans.
Jeans | Jeans on Amazon | Similar Ankle Boots
Choosing a color that matches your skin tone extends the leg line. A striped button-up shirt and cream tweed open sweater creates a rich but casual look.
Wearing Bootcut Jeans With Flat Shoes
With black Adidas sneakers
Here's a different shoe to wear with bootcut jeans. Black Adidas tennis shoes create a casual sporty look that says you're ready to be on the go.
Jeans | Jeans on Amazon | Adidas
A Breton stripe sweater elevates the look a bit more than a sweatshirt. A black sling bag gives you everything you need right at your fingertips when you're out running around.
With white sneakers
Of course, you can wear white sneakers with your bootcut jeans too!
Jeans | Jeans on Amazon | Sneakers
This is the kind of cute outfit that is perfect with shorter bootcut jeans. I want to live in this look. 
Best Shoes To Wear With Bootcut Jeans
Bootcut jeans are ideal for ladies with curvy hips, but the mid-sized ladies can also give them a try. The beauty of this denim lies in its versatility. It can be combined with almost any shoes, except for ballet pumps. I personally wear style these jeans with wedges and ankle boots. Below are shown some easy looks that feature bootcut jeans and all kinds of shoes.
Black Leather Ankle Boots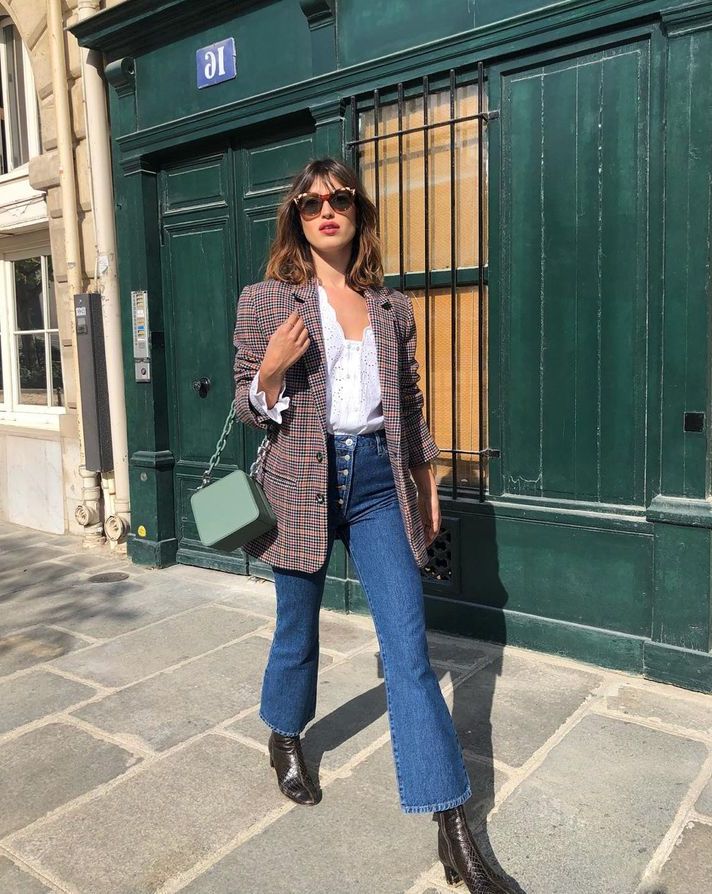 Cream Pumps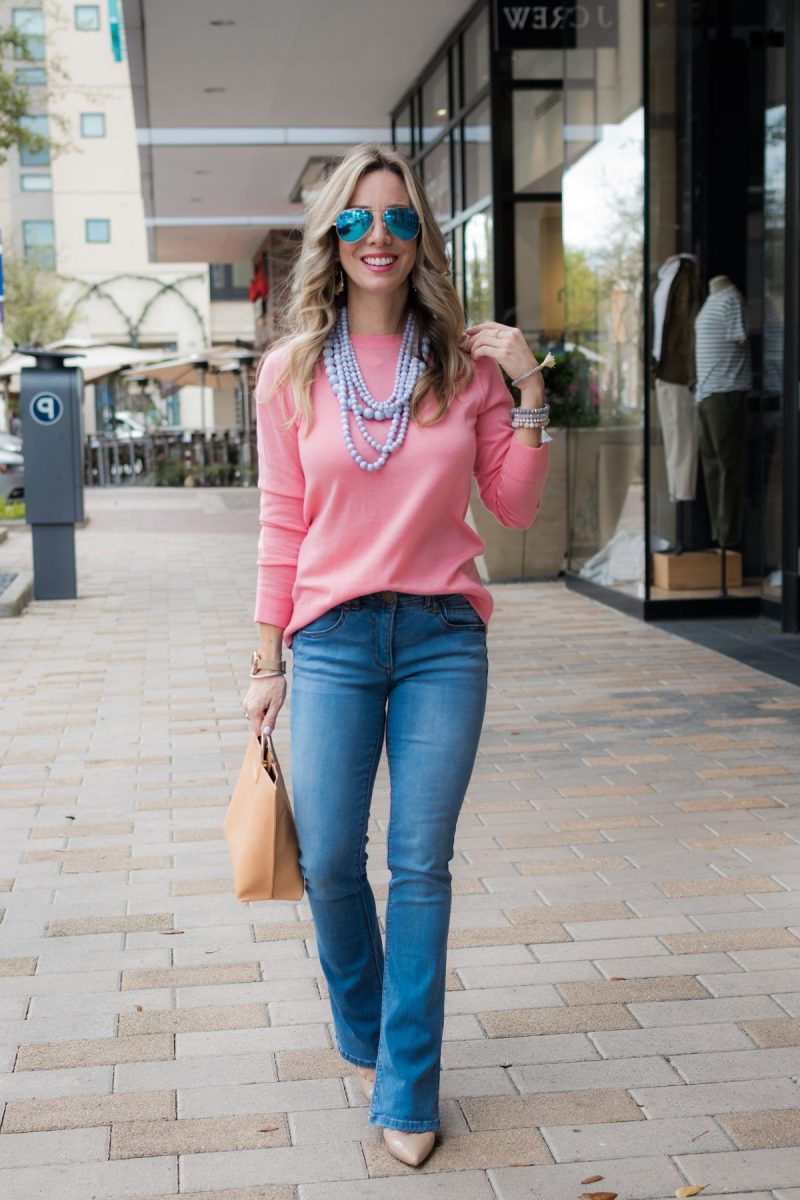 Black Booties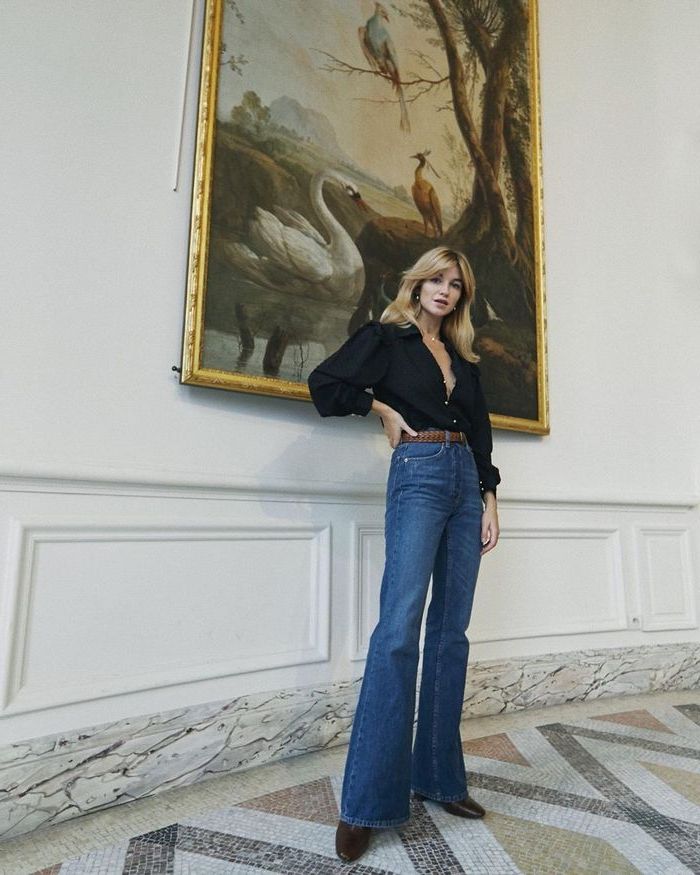 Black Tall Boots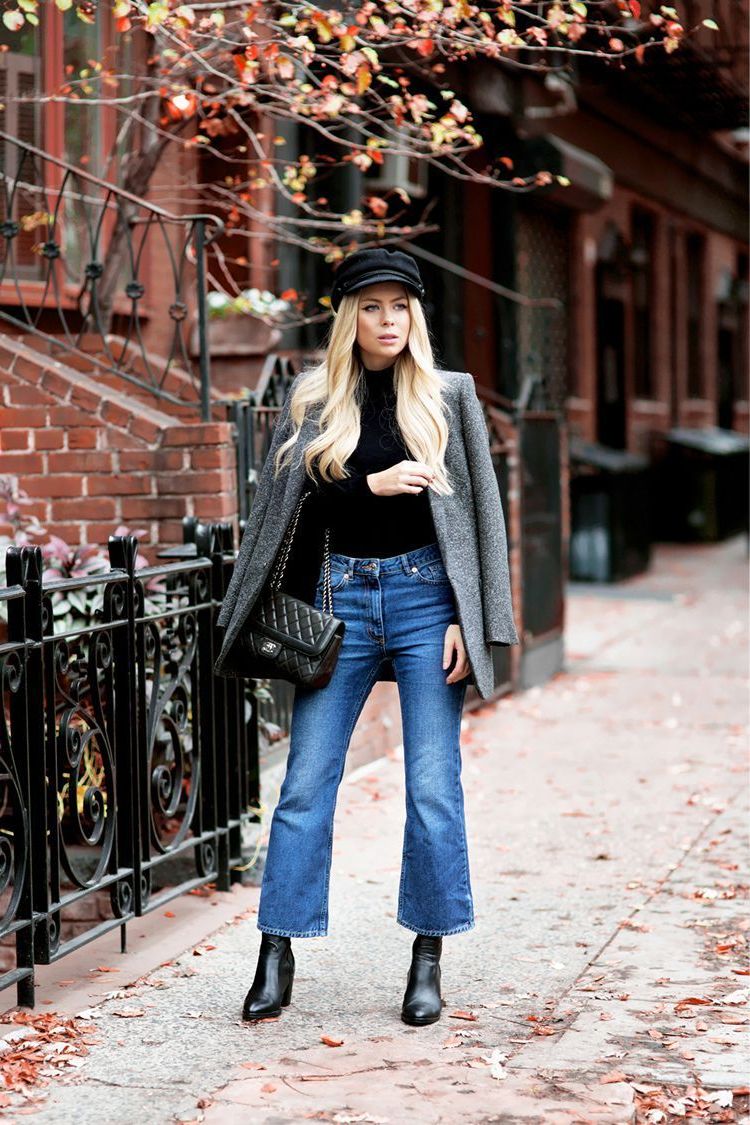 Wedges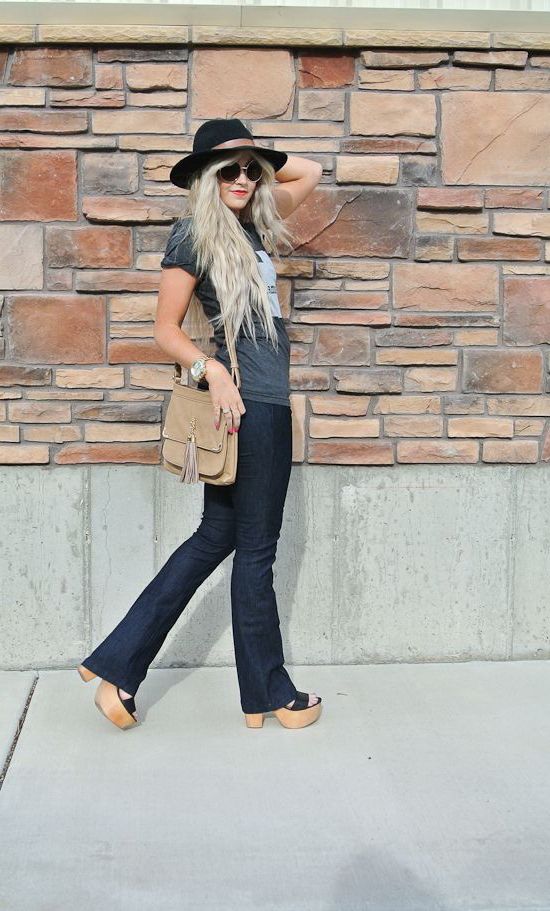 Square Toe Pumps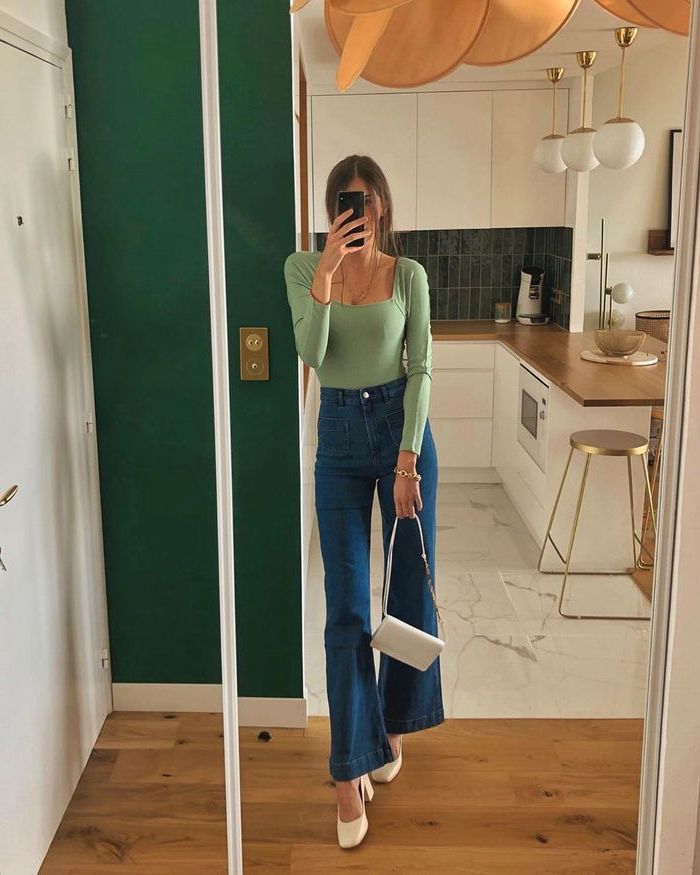 Light Brown Suede Boots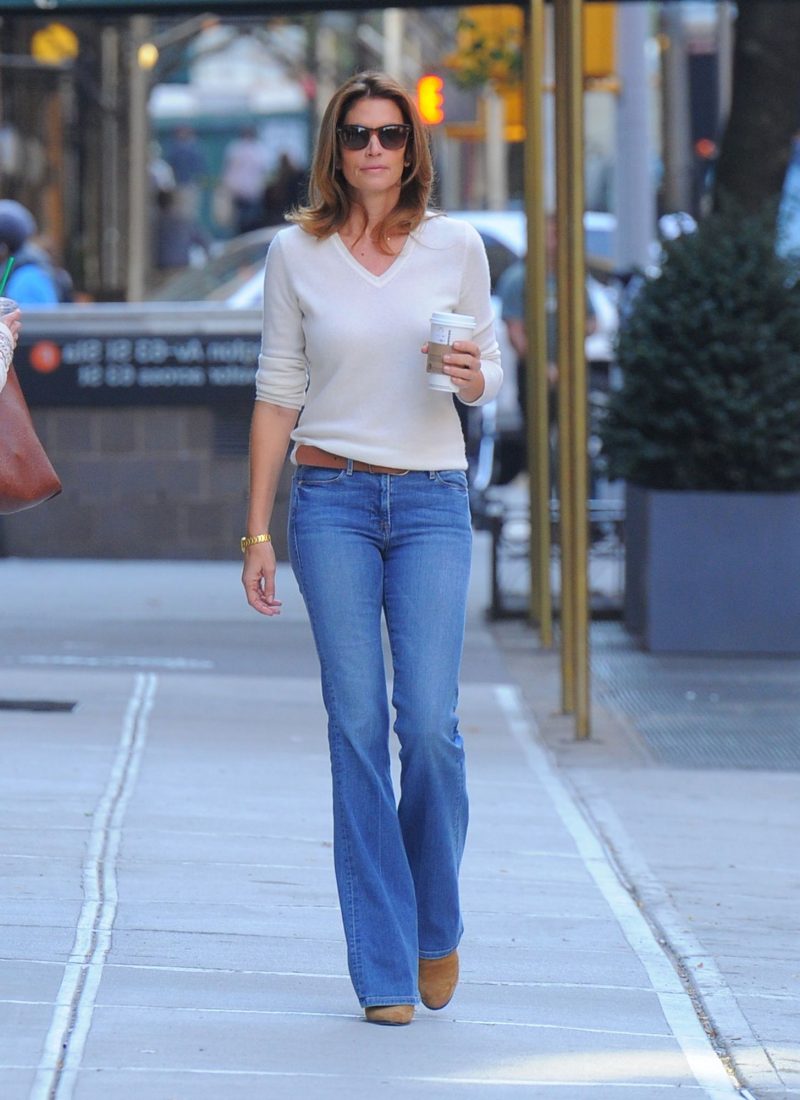 White Sneakers