Best Pants To Wear With Jordan 1
The right pants can make or break your fit. Too tight, your feet look like boats. Too baggy, then you might look like Michael Jordan. The perfect medium is a tapered pant that sits just right on the top of the tongue.
Jordan 1 High vs Mid vs Low
Before we get into it, we need to ask a vital question, highs, mids, or lows?
Don't click away just yet! We're well aware the Nike Air Jordan 1 High is everyone's favourite silhouette of the bunch, and for good reason of course – its timeless! However, that shouldn't mean we should ignore both the Nike Air Jordan 1 Mid and the Nike Air Jordan 1 Low. All three of these models come in a variety of stunning colorways ideal for taking your fits to the next level. So lets break down the pros and cons of each of model and which suits you best.
Nike Air Jordan 1 High
The Jordan 1 High is a timeless silhouette with an abundance of classic colourways and collabs to offer. To many it is the only style of Jordan 1 to buy and is an all-time classic. However, because of its popularity and relative rarity, it is also the hardest and usually most expensive to get your hands on.
Nike Air Jordan 1 Mid
Mids are often the least favoured variation of the AJ1 due to not being seen as 'traditional' and the fact they're often more available than its High counterpart. However, this isn't a bad thing at all! Mids are much more accessible for most and often come in a lot more unique colourways which are often a lot easier to buy for people looking to build their sneaker collection.
Nike Air Jordan 1 Low
The AJ1 low has seen a recent spike in popularity, but it still usually a little harder to get your hands on due to less releases and not as many colourways. However, the low-cut silhouette is a great option for a very wearable shoe and is perfect for summer when paired with shorts.
Now we've covered the different variations, lets jump right into it and look at the best ways to style Jordan 1s.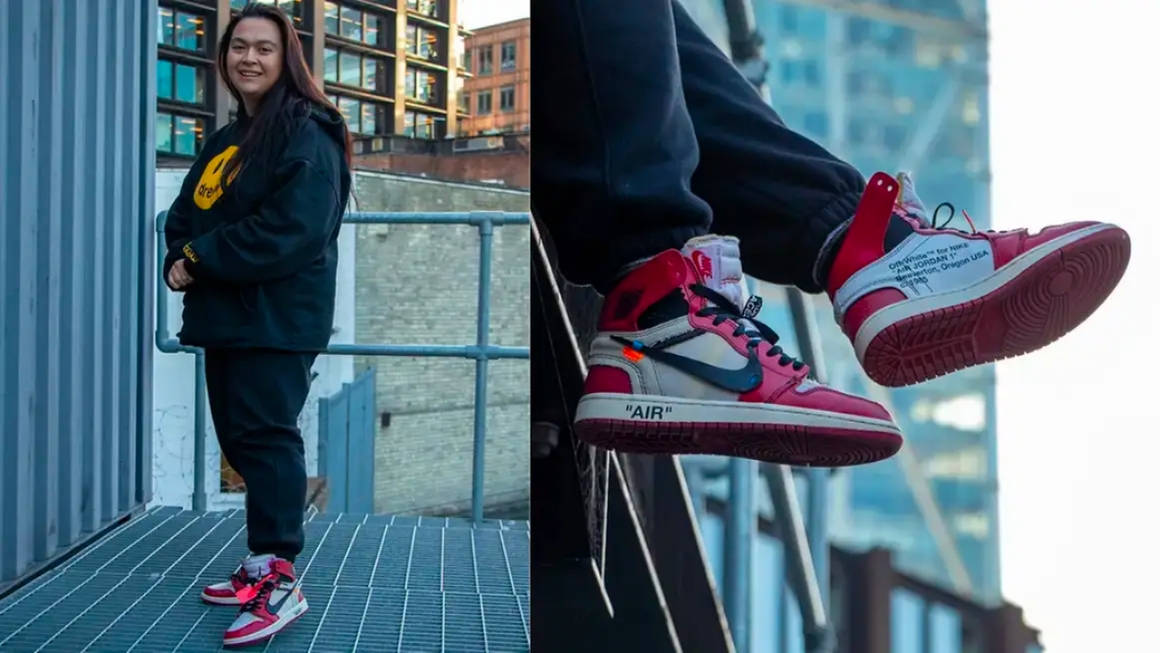 Int'l Shipping
How To Style Nike Air Jordan 1s
Pick a Pair Which Compliments Your Outfit
The easiest way to style Air Jordan 1s is to match them with other parts of your outfit. Whether you're matching them with your tee, a hoodie, or your accessories, this is a great way to tie your whole outfit together.
Choosing a pair of Js which has a unique colour detail, such as a pop of bright colour, or choosing a pair which has a tonal colour scheme which you can match in your outfit is a great way to create a stylish fit.
The key to a successful outfit when your colour matching is to be subtle. You don't want to go to loud or look a little too matchy. Go for subtle details or choose a neutral color scheme to really make the most of this style.
Make Your Jordans Stand Out
If matching your shoes to your outfit isn't for you, then let your shoes do the talking! Our favourite way to do this is to go for a simple outfit on top and a standout pair of Jordan 1 heat on foot. Go for a loud colourway or a hyped collaboration pair such as the Travis Scott x Fragment Design Jordan 1 or a pair from the Nike x Off-White collection.
For the outfit itself, we love to go for a simple all-black outfit. Grab a pair of black jeans or black joggers, throw on a black tee and you're all set. When you're wearing an all black outfit it's very easy to match your looks with a pair of Air Jordan 1s. Because of the neutral hue of black, you can pair virtually any colour you can think of, making choosing the right pair of Jordans no problem.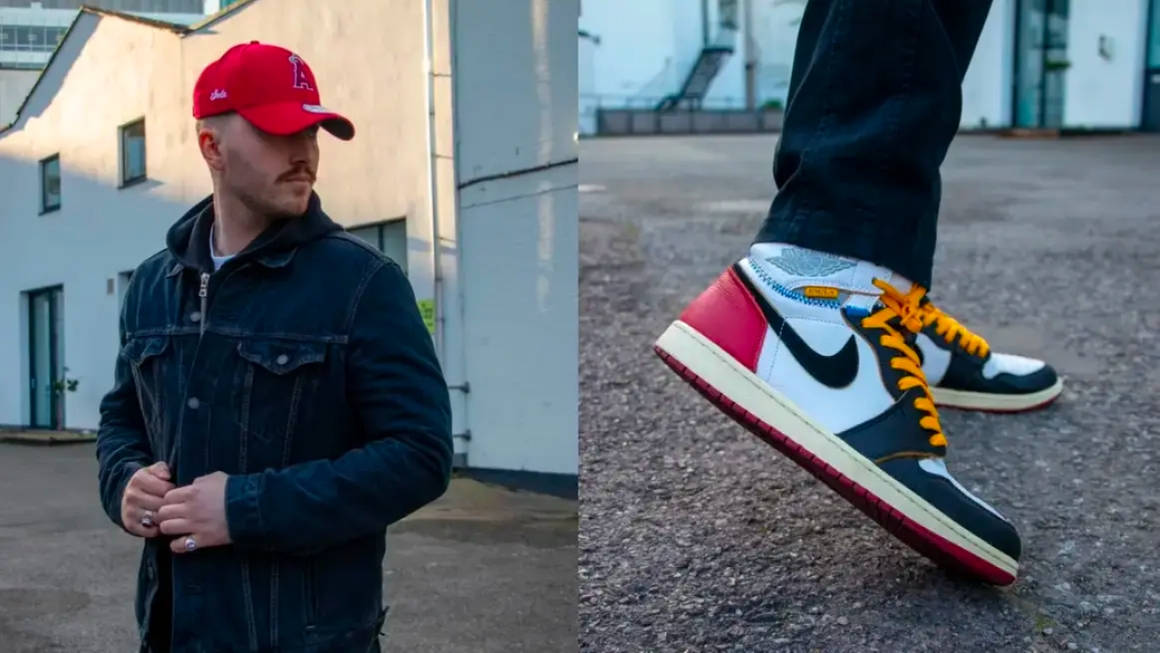 Int'l Shipping
Opt For Classic Streetwear Style
If you're looking for a simple but effective fit, why not pair your Air Jordan 1 with some classic streetwear styling? Easy to pull off and suitable for a variety of occasions, streetwear fits look and pair perfectly with Nike Air Jordan 1s due to the casual nature of the shoe. We recommend pairing your choice in Air Jordan 1s with a cargo pant, a plain T-Shirt for layering and a varsity jacket on top for a collegiate streetwear look.
For a variation on this look, opt for workwear rather than streetwear. Throw on a pair of straight leg jeans or carpenter trousers, grab a classic work jacket from a brand such as Carhartt or Dickies, and you have yourself a great everyday outfit.
Add Some High Fashion
Just because the Jordan 1 is a vintage basketball shoe doesn't mean you have to wear it with retro or sport outfits only. We've seen people wear Js with suits and formal outfits, so why not rock them with some high fashion or contemporary looks?
Similarly to Air Force 1s or Nike Blazers, the Jordan 1 is a classic sneaker we all know and love. Because of this, you can push the boundaries a little bit and wear them with some out-the-box 'fits. You don't have to just rock them with jeans or sweatpants, opt for some tailored trousers for a totally different aesthetic.
3 sneaker heights, endless style possibilities
There are three styles to choose from in Jordan 1s: low-top, mid-top, and high-top. The style you select should be based on your own preference. Style is subjective, and you shouldn't wear something just because it's cool or more popular. The quote "look good, feel good" is true here, and whatever makes you feel confident is the best style for you.
With this being said, high-top Jordans are the original look and are still the most popular style of Jordans in modern times.
However, Low top AJ 1s have seen a recent spike in popularity because of their versatility in styling and outfit combinations.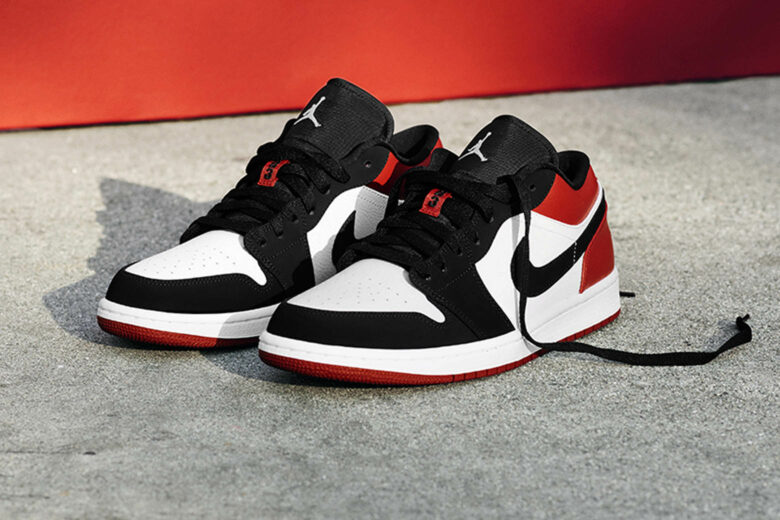 Which colors?
Considered one of the best luxury sneakers for men and a perennial favorite amongst women's white sneakers, Nike's Jordan 1s can command a premium price tag for rare colorways. There are over 100 different Jordan 1 colorways, but here are the most iconic ones:
Air Jordan 1 Black/Red ('Bred'/'Banned') – Also known as Air Jordan 1 Patent Red
Air Jordan 1 White/Black-Red ('Chicago')
Air Jordan 1 White/Black/Red ('Black Toe')
Air Jordan 1 Black/Royal Blue ('Royal')
Air Jordan 1 Black/Grey ('Shadow')
Air Jordan 1 White / Natural Grey
Air Jordan 1 White / Blue ('Kentucky' / 'Storm Blue')
Air Jordan 1 White / Black ('Panda')
The Air Jordan 1s also have a selection of notable collaborations, with the most popular being the Air Jordan 1 x Travis Scott edition.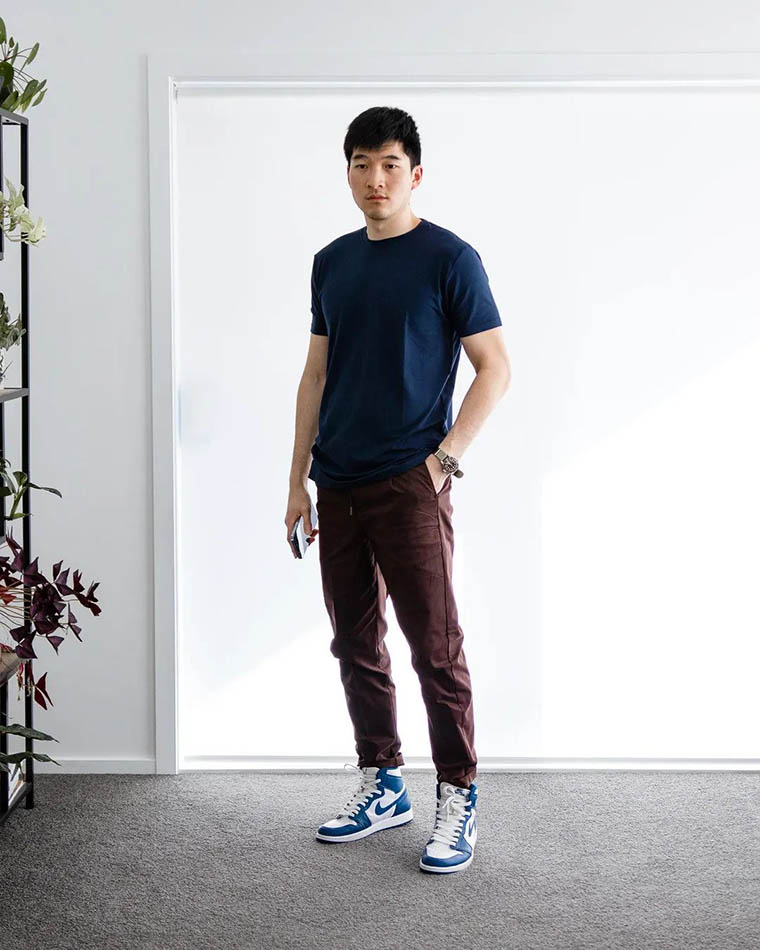 What to wear with Jordan 1s
Wear neutral colors to let your Jordan shoes stand out. Your Jordan 1s are the star of the show, so you can't go wrong with an all-black or all-white outfit. As long as your clothes are neutral and relaxed, your shoes will shine like Michael Jordan on the basketball court.
How to style Jordan 1s with sweatpants
Tapered pants and sweatpants are the go-to look for the majority of Jordan owners. Sneakerheads love to show off the entire shoe, and tapered pants precisely allow this.
How to style Jordan 1s with jeans
Denim jeans with a slight slack are the best pants to wear with Jordan 1 kicks. It offers the most versatile look with a modern streetwear style. Furthermore, it allows you to show off the entire Jordan 1s without anything blocking the upper range.
You can also pair your Jordan 1s with khakis or black slacks. As long as the fit of your pants is proper, the type of pants you wear is not as important.
How to style Jordan 1s with shorts
The most critical piece of your outfit if you choose to wear shorts with your Jordan 1s is, in fact, your socks.
Standard white or black crew socks are perfect to wear with your shorts. This is because you still want your kicks to be the star of the show.
Specific outfits with Jordan 1
Let's discuss a few specific Air Jordan 1 outfit styling combinations:
Solid-colored cargo jeans, logo tee
Nike sweatpants, plain white tee, Nike woven track jacket
Cargo pants, solid grey hoodie
Black jeans, black sweatshirt
Denim tapered jeans, white tee, flannel shirt