Balconette Bra For Large Bust
A balconette bra (sometimes spelled balconnet), or a balcony bra, is a style of bra whose cup generally covers 2/3 – 3/4 of your breast, leaving the top part exposed. This bra is sometimes referred to interchangeably as a demi cup bra. While both bras only provide coverage for part of the breast, the biggest difference between the two is that a balconette bra has more of a sweetheart neckline.
WHAT MAKES A BRA A BALCONETTE BRA?
Typically, a balconette bra will have a short gore in the middle, with the underwire coming up higher along the sides. The straps of the bra will generally be wide-set, as they are normally sewn to the sides of the cup.
WHY WEAR A BALCONETTE BRA?
A balconette bra is a great option for low-cut and wide necklines, given the placement of the straps and the cut of the cups. The bra also provides a bit of a cleavage boost by pushing your breasts toward each other, while still keeping your breasts supported.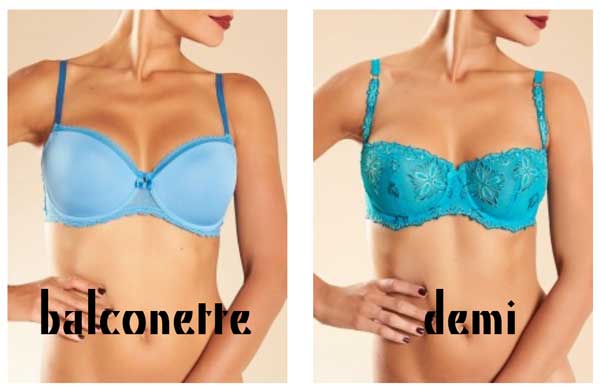 WHO SHOULD WEAR A BALCONETTE BRA?
Good news! The supportive and shaping style of the balconette bra suits women with a with both big and small breasts. If you've got broad shoulders and breasts that are full on top, a balconette is going to work well for you.
If you're fuller on the bottom, however, you can still wear a balconette bra. You may have to dig around a bit to find a cup that has the right level of projection for your breasts so that they don't appear too flat on top. If you do have loose tissue, try to stick to balconette bras with a 3 or 4-part cup. The seaming will help support and lift your breasts.
BALCONETTE VS DEMI BRA
Just to make things a little more confusing, bra manufacturers today often use the term demi cup interchangeably with balconette. While they have a lot of similarities—wide-set bands and partial coverage, the biggest difference between the two is that the demi cup has a straighter neckline than a balconette. In other words, where the balconette has a bit of a heart-shape neckline, there is very little difference between the level of the cup on the inner edge vs the outer edge.
A BALCONETTE BRA CLASSIC: THE PANACHE TANGO II
I have to admit I have an emotional attachment to this particular balconette bra. The Panache Tango II (3251) is a classic that has been around for years. The Tango II is also the very first bra I bought after getting properly sized for the first time back in 2008. I wore this bra in 38H under my graduation dress that year, and basically wore it to the ground. Though I have gravitated toward Freya as my go-to brand, Panache does make beautiful plus size/large cup bras and I wanted to check out the Tango II again to see if this bra is still worth raving about.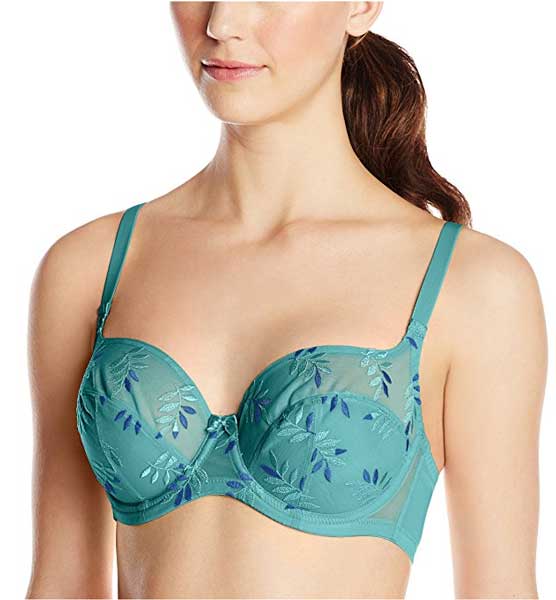 STRAP
The straps on the Tango II stay in place on me but they do flare out a bit, which means that slip might be a problem for those of you who are narrow-shouldered.
The straps are fully adjustable, and while they are not the widest out there, my shoulders don't feel any strain.
CUP AND GORE
First, the aesthetics. The balconette cup is very pretty (to me) and has a nice leaf patterned embroidery on it. This will, however, show through on some shirts.
The cup works together with the rest of the bra to provide an excellent amount of lift, thanks to the T-seam.
The shape on me wasn't pointy, but wasn't entirely round either. If my first Tango is anything to go by, over time as the seams soften, any semblance of pointiness will also diminish.
The way the cup opens at the top isn't totally ideal for pendulous boobs/boobs that have lost volume. You kind of get a look where the bottom part of your boob is pushed up nicely, but the top part doesn't look as round as I would like.
If you are full on top, it might feel like the bra pushes your boobs up a bit too much. If your cup size is down the alphabet, expect that this bra will definitely create a lot of cleavage. Let's just say if modesty is a priority, this isn't the bra for you, because this bra will definitely highlight your assets.
This is another one of those rare bras where the gore lays flat on my chest. It does come up a bit high, which keeps it from being versatile enough to be an all-rounder bra, but it creates awesome separation.
BAND/SIZING
At first glance, the band does not inspire a whole lot of faith. It's not particularly wide, and only has three hooks in the larger sizes. When it's on though, it still manages to feel very supportive.
The band also sits high enough that I feel I gain a couple more inches of stomach, which is nice.
I'm also a big fan of the fact that the sides of the bra are well-reinforced with boning, providing a lot of side support which helps to keep boobs in place and facing forward.
UNDERWIRE
The underwire on this bra is a bit strong, which may take some time to get used to as you break in the bra. It also comes up high under the arm. This isn't a problem for me at my height, but if you're a bit shorter, I think this might be something to consider.
FEEL
This bra, once you put it on feels very high quality, and sturdy. I think it's comfortable for long wear, certainly as comfortable as the original Tango.
I can't stress enough how well-supported this bra feels. At the end of the day, back pain isn't an issue, as it distributes the weight of your bust very well.
One little hiccup you might have at the beginning is the material. It feels a little scratchy and stiff fabric at first, but softens after a couple washings. My skin isn't really all that sensitive, so I was able to wear it straight from the shop.
Top picks for the best bras for big boobs in 2023:
The Best Front-Clasp Bra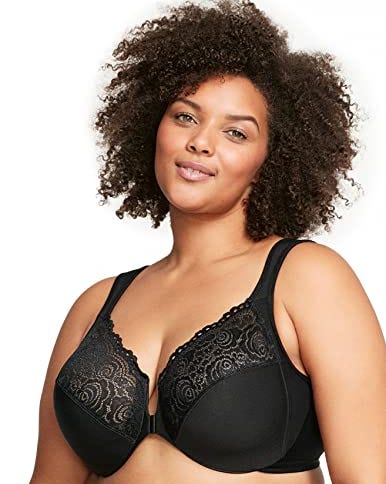 Glamorise Wonderwire Front-Closure Bra
Now 31% Off
$41 AT AMAZONCredit: Glamorise
PROS
Assortment of colors
Padded underwire
CONS
The front closure detail on this bra makes it easy to put on and take off while offering enough support for daily use.
Band sizes: 34 – 50
Cup sizes: B – H
Notable 5-Star Review:
I have been searching for a bra that doesn't slip off my shoulders or ride up my back. This bra is the best bra I have ever worn. I have finally found a bra that supports me, doesn't slip anywhere and doesn't make my back hurt so much.
The Best Smoothing Bra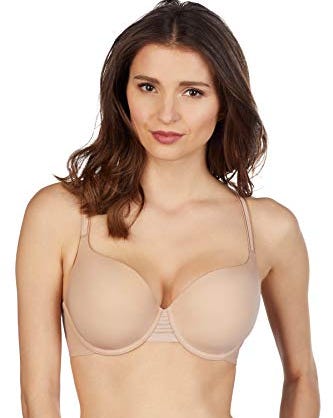 Le Mystere Second Skin Back Smoothing T-Shirt Bra
PROS
Assortment of colors
2-ply back wings
Lightweight
CONS
For that barely-there feel, get this smoothing bra feels like a second skin. With plush memory foam cups, you'll find that it molds comfortably to the shape of your body.
Band sizes: 32 – 40
Cup sizes: B – G
Notable 5-Star Review:
Everyone has a bra they won't let die, this is mine. I had this bra for YEARS and it never lost its shape, the threads never came undone, the wire never poked out, the straps never looked old, the band never loosened up and the hooks didn't warp. I literally chucked this bra in the washer and dryer willy nilly with my gym clothes and it held up like a CHAMP.
The Best Scoop Bralette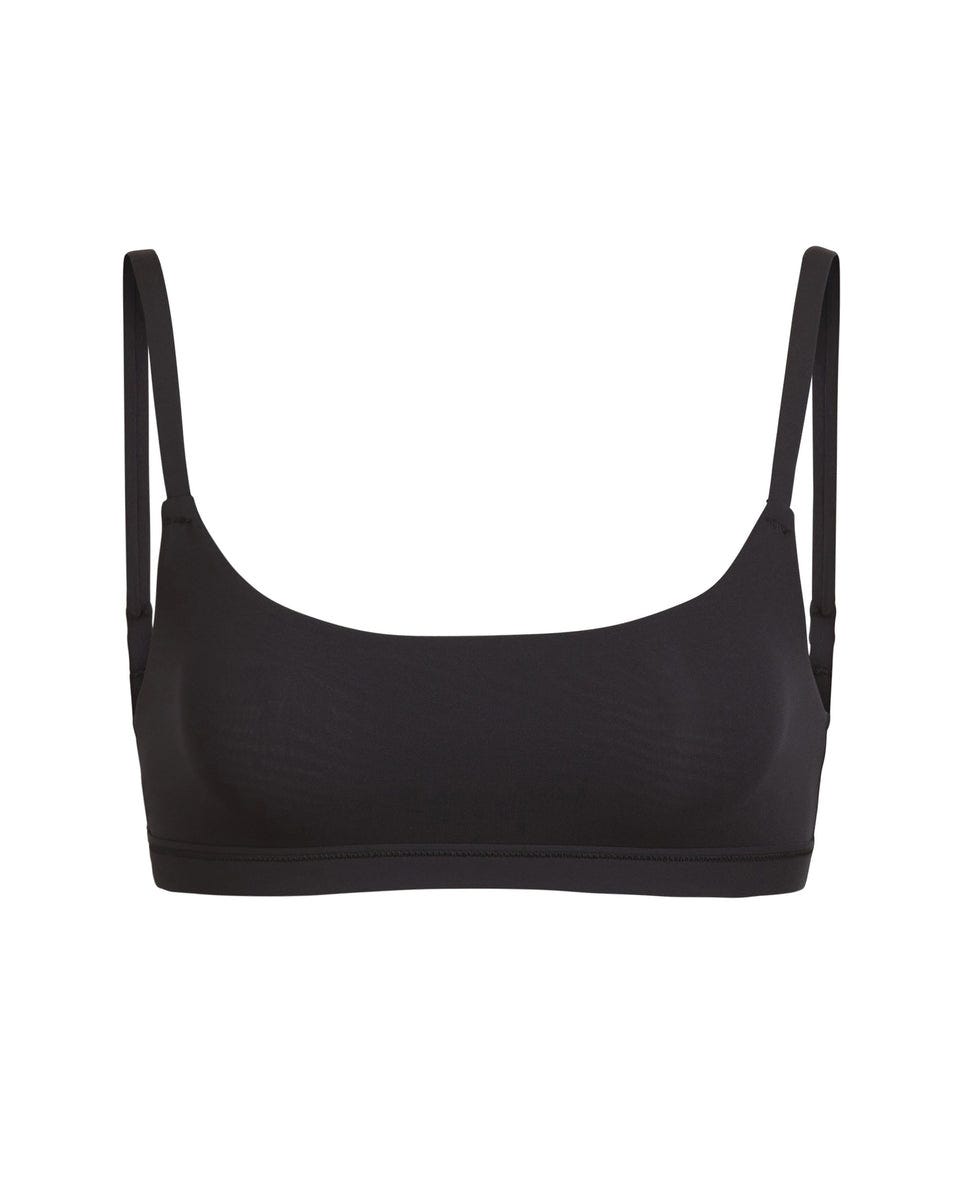 FITS EVERYBODY SCOOP BRALETTE
PROS
Assortment of colors
Machine washable
Adjustable straps
CONS
Some shoppers have noted that band is tight
Although it looks delicate, this scoop bralette was designed to lift and frame your bust while still feeling ultra light.
Notable 5-Star Review:
This bralette is now my go-to because of how soft the material is and overall comfortable it is. It has stretch to it which is nice and I believe contributes to how comfortable the bralette is. It also feels very secure and is thicker than bralettes I've used in the past which have one layer of fabric.
The Best High-Impact Sports Bra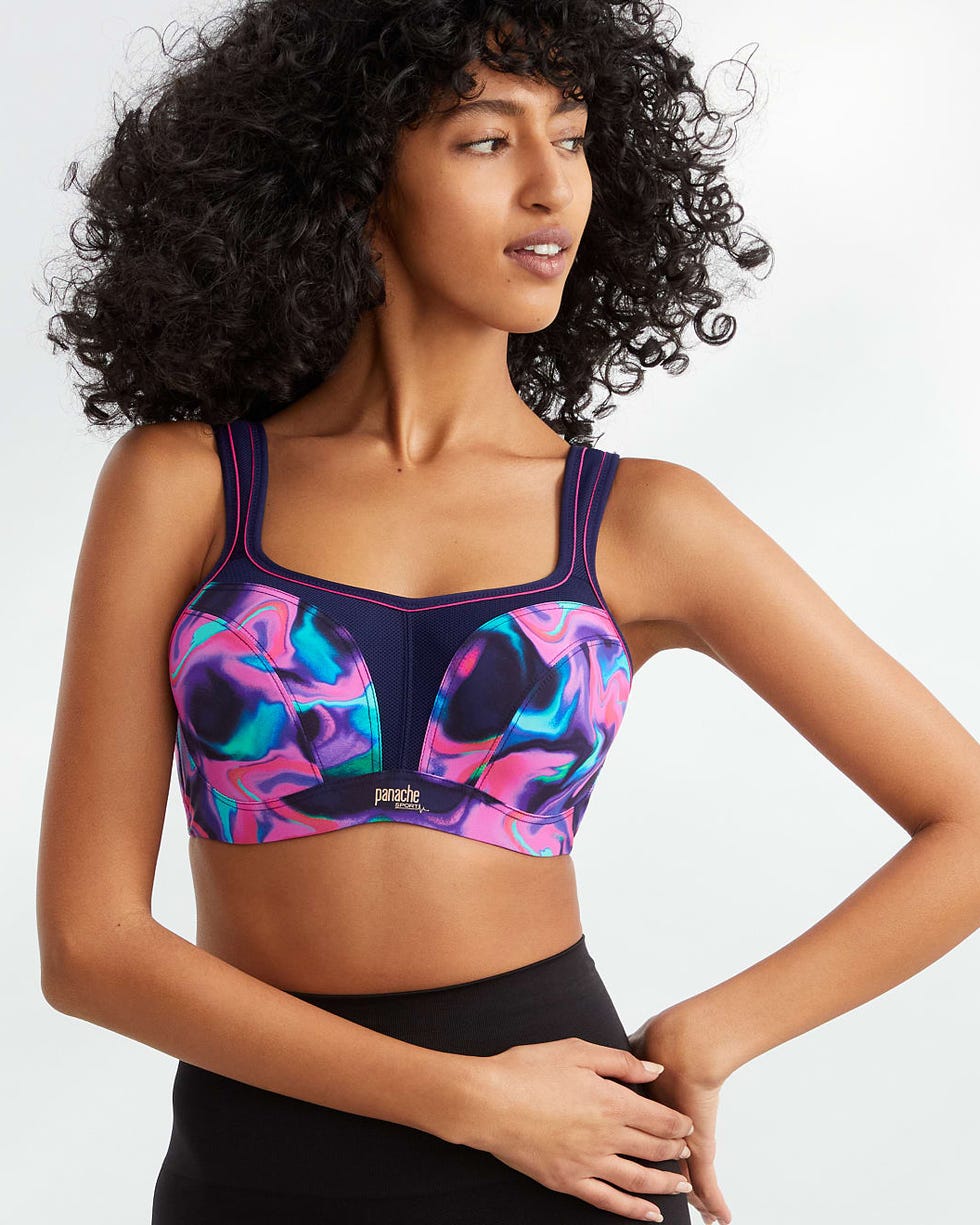 Panache Ultimate High Impact Underwire Sports Bra
Now 48% Off
PROS
Encapsulated cups
Converts to racerback
Silicone encased underwires
Made with breathable mes
CONS
Hand wash only
Shoppers have noted sizing varies
Advertisement – Continue Reading Below
I'm sure I don't have to explain how uncomfortable working out without the proper boob support is. This one takes care of that problem with the addition of an underwire wrapped in silicone, so you can focus on nothing more than your gym sesh.
Band sizes: 28 – 40
Cup sizes: B – J
Notable 5-Star Review:
Great sports bra. This sports bra is the best I have ever found. I workout pretty hard and with 34DDD it is hard to find a bra that holds but isn't bulky . I bought two in the past but am getting two more since I now wear them sometimes even when I don't workout because they are so comfortable.
The Best Nursing Bra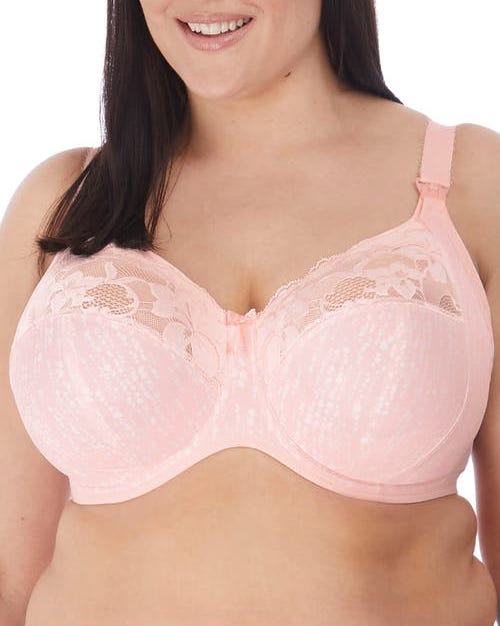 Elomi Molly Full Figure Underwire Nursing Bra
Now 25% Off
PROS
Moisture-wicking
Quick release clip feature
CONS
Some shoppers have noted the lace ripping
If you're nursing, having undergarments that make it so you can easily remove and put on is key.
Band sizes: 32 – 44
Cup sizes: GG – KK
Notable 5-Star Review:
Love, love, love this bra. This is my 5th underwire nursing bra and by far the most comfortable and supportive. The fabric is soft and supportive and I love the way the clip down piece comes all the way down and does not warp the underwire. I am a 38H right now and find it hard to find bras to fit. I was surprised that this one is a perfect fit.
The Best Full-Coverage Bra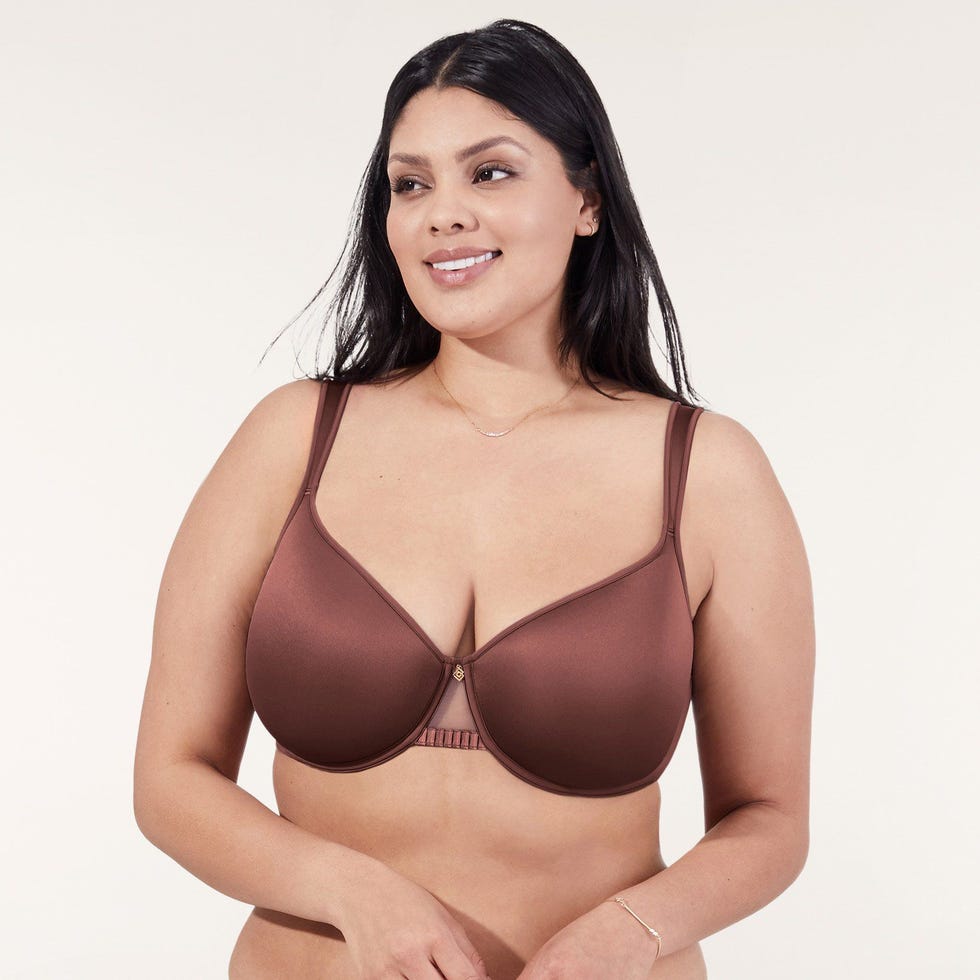 24/7™ Perfect Coverage Bra
PROS
Straps don't need constant adjusting
Doesn't dig into your shoulders
Smooths sides under arms
Mesh insert is cooling
Memory foam cups
CONS
Reviewers in larger sizes wish it came in more colors
Some reviewers had to go up a size
Advertisement – Continue Reading Below
Meet your new go-to basic that offers full coverage and has comfy straps that will actually stay in place.
Band sizes: 32- 44
Cup sizes: B – H
Notable 5-Star Review:
I'm a 34H, and I love the support and separation I get with this bra. It doesn't dig into my shoulders, and I'm not constantly adjusting it. This bra is the best
The Best Skin-tone Matching Bra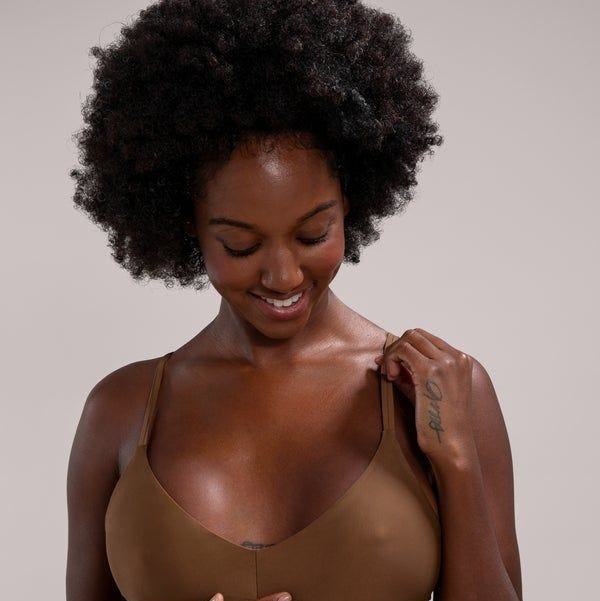 Nude Barre 3PM Bralette
$67 AT NUBIAN SKINCredit: Courtesy
PROS
CONS
Nude bras that match your skin color are a staple in so many closets, and this bra has a diverse range of hues that compliment many different tones.
Editor's Note: This exact bra is out of stock, but here's another best-seling skin-tone matching bra.
Notable 5-Star Review:
I love this. It's extremely comfy. I forget that I have it on. I am a 32C and got the medium. I often have trouble with cups being too small in bralettes, but I don't spill out of these.
The Best Lace Bra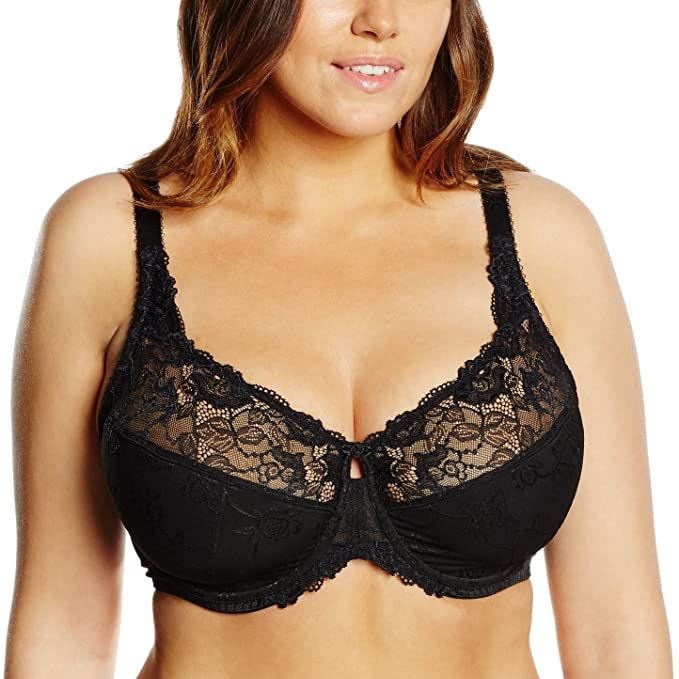 Delimira Full Coverage Underwire Lace Bra
Now 30% Off
$15 AT AMAZONCredit: Courtesy
PROS
Wide, supportive straps
Assortment of colors
Breathable fabric
CONS
Perhaps it's just me, but lace detailing is one feature on bras that always makes me feel the most confident and this one is perfect for those who have a fuller bust.
Band sizes: 34- 48
Cup sizes: B – H
Notable 5-Star Review:
You have no idea how hard it is for me to find a decent priced bra that FITS! This is so perfect! I'm 36G and the middle actually touches me and it's so comfy! I'm ordering one in every color! I'm very happy with this!
The Best Mesh Bra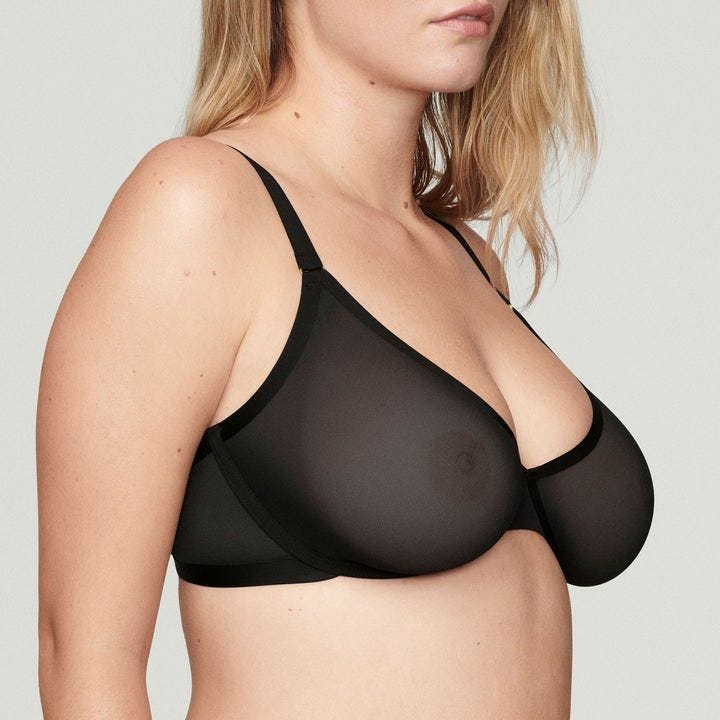 Cuup The Plunge Bra
$68 AT CUUPCredit: Courtesy
PROS
Supportive
Ultra-thin underwire
Deep V neckline
CONS
May be more comfortable for rounder breast shapes
Finding supportive mesh is no easy task, but Cuup's plunge bra understood the assignment.
Band sizes: 30 – 44
Cup sizes: A – H
Notable 5-Star Review:
Honestly, I was sort of expecting this bra to be more about looks than comfort, but I was wrong. It's wildly comfortable and this coming from someone who works from home and rarely wears underwire bras. Fits very true to size for me (38C). The color is gorgeous and very true to the image as well, will definitely be getting more in other colors.
The Best Bandeau Bra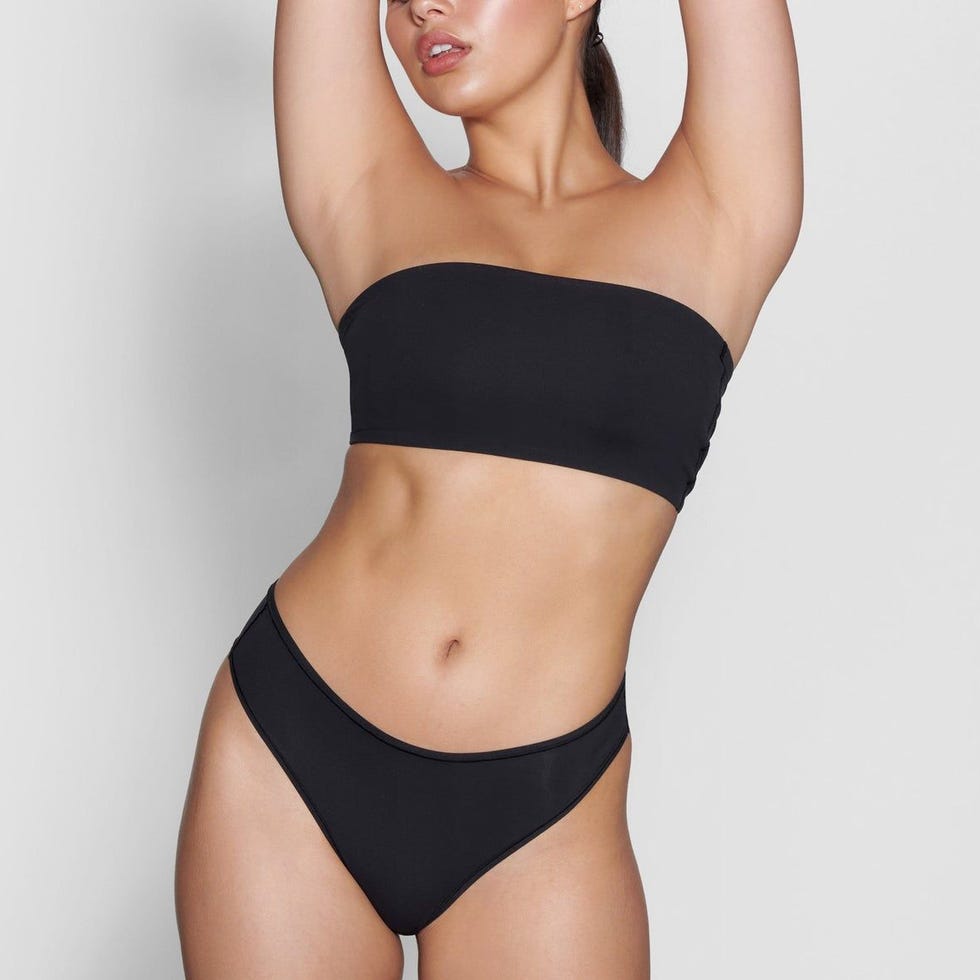 Skims Fits Everybody Bandeau Bra
$28 AT SKIMSCredit: Courtesy
PROS
Buttery soft fabric
Machine washable
No digging!
CONS
Advertisement – Continue Reading Below
This bandeau offers a tight and secure fit that's supportive for daily tasks but still feels comfy.
Notable 5-Star Review:
So, I am a 40DD and my boobs fit into this bandeau. My boobs don't weigh it down and it fits better than a strapless underwire bra does, which is a really strong statement. I don't have to pull it up constantly. It keeps my girls high and dry. I literally cannot wait until it restocks so I can buy one in ever freaking color.
The Best Bralette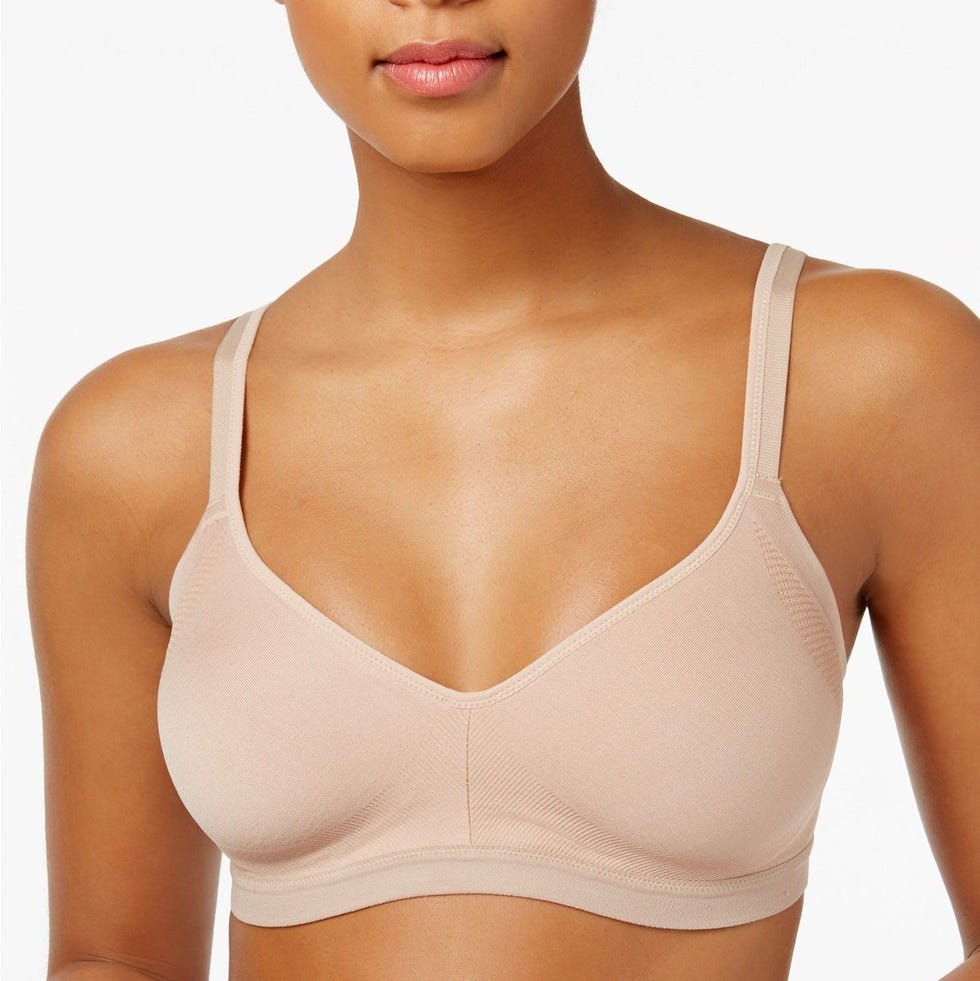 Warner's Easy Does It No Bulge Bralette
Now 48% Off
PROS
Subtle padding
High coverage on the sides and armpits
Thick, comfy straps
CONS
Reviewers say it's not the most supportive
With its relaxed fit, this bralette gives you coverage and an adequate amount of lifting.
Notable 5-Star Review:
I'm a 38DD and I've breastfed 2 kids, I'm always looking for a comfortable bra. This one is comfortable. It doesn't support as well as one with underwire, but it does a good job. No uniboob, which is what I hate about sports bras. I'm keeping it to wear on the plane and on the weekends.
The Best Balconette Bra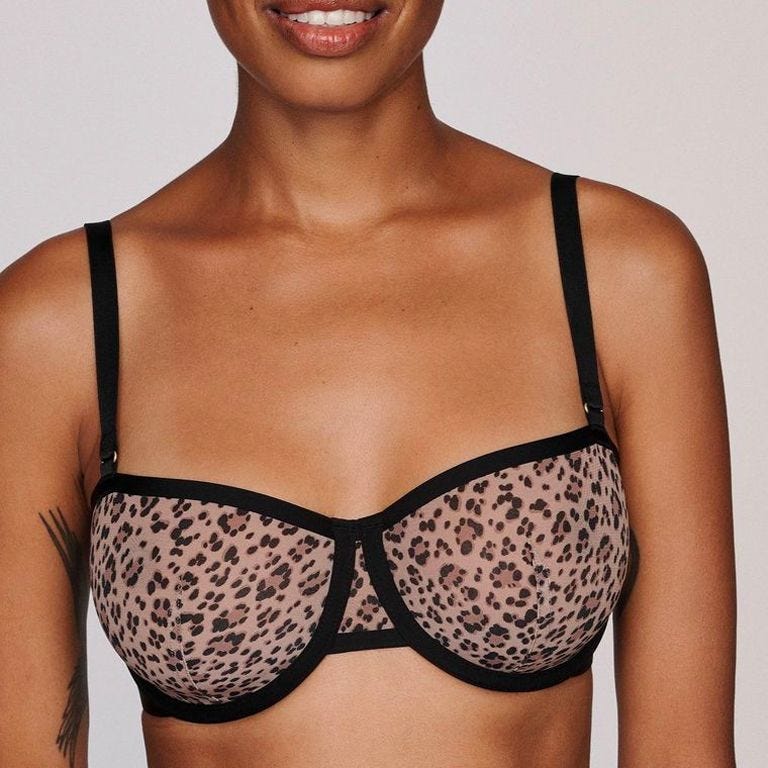 Cuup The Balconette
PROS
Comfortable flat underwire
Soft, velvety straps
CONS
Advertisement – Continue Reading Below
Lightweight and full coverage? This balconette bra has mastered a balance between sexy and casual.
Band sizes: 30 – 38
Cup sizes: A – H
Notable 5-Star Review:
I'm full chested with a small rib cage; it's basically impossible to find my size in stores. If they have it, it's sold out. I was hesitant buying online, but, honestly—THIS WAS THE BEST PURCHASE I COULD'VE MADE. I love this bra. It feels so light, and it's supportive but still sexy; I don't feel like I'm my mom wearing a bra for grandmas. (If you're big chested you know the look I'm talking about). If you're on the fence…DO IT! Just buy the thing, take the risk and you'll be happy you did.
The Best Push-Up Bra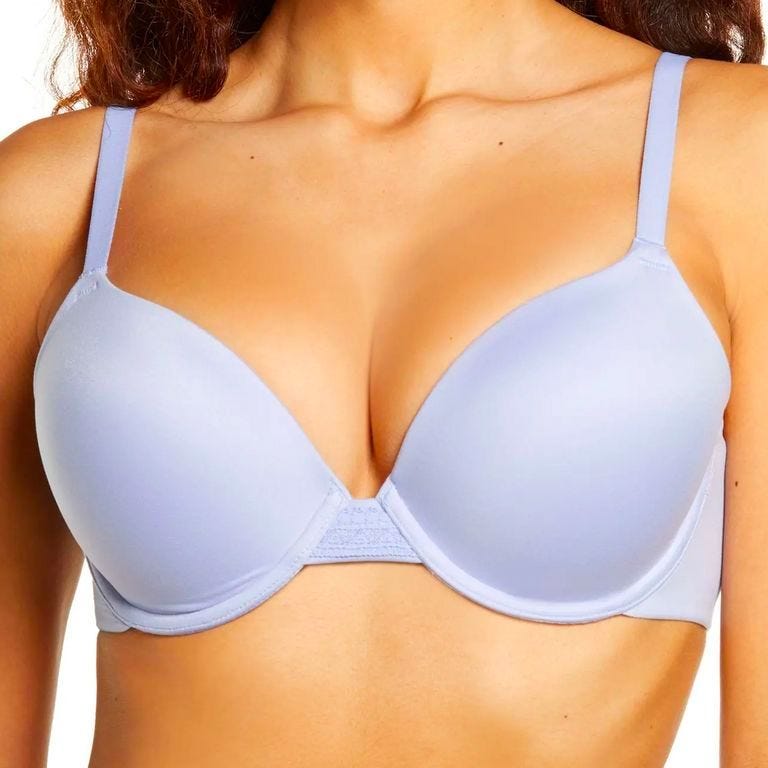 Wacoal Perfect Primer Underwire Push-Up Bra
PROS
Comfy enough for everyday
Smooth band
Buttery-soft fabric
CONS
If you want your boobs to stand up a bit taller, this push-up bra's foam cups give that extra perky appearance.
Band sizes: 32 – 40
Cup sizes: B – DDD
Notable 5-Star Review:
Wacoal has been my favorite brand for many years now. When I developed shoulder problems and realized that I need a front close bra, I ordered ones from different brands to try. It came no surprise to me when I found that Wacoal was the only comfortable one! The only disappointment is that there is very limited choice of styles and colors in my size (40D).